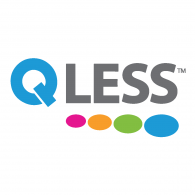 QLess
Eliminate lineups and manage social distancing and capacity.
Want to eliminate lineups for students and clients waiting for in-person services? Use virtual queue management to manage social distancing and capacity limits.
This Software as a Service (SaaS) solution moves clients from traditional in-person lineups to a virtual queue-based system. Clients begin by joining a virtual queue via a website or a text message. Once in the queue, they can move freely and wait anywhere they like until they are notified that they should proceed to an available service agent.
Product Information
Access
Website Link: https://www.qless.com/queue-management/
---
Technical Requirements​
QLess provides a completely hosted solution.​
Access via browser (web site), QLess app, or SMS text messaging​
Participating users may want to include a link to the QLess solution from their website
Cost​
TBD​
Note: ITS/EASI is currently working on organizing a one-year pilot for the QLess service. More information will be made available once pilot specifics are set.
---
Contact Information
Gary Raposo: gary.raposo@utoronto.ca