Timetable Builder Expansion
Timetable Builder Expansion
The redesigned and cloud-based Timetable Builder will allow students to easily create and optimize their course schedules with a convenient, user-friendly and accessible user experience. After a successful pilot at the University of Toronto Scarborough, this application has been enhanced and will be released more broadly across U of T.
Since fall 2019, Enterprise Applications & Solutions Integration has conducted extensive research, design and usability testing across all three campuses. As a result, upgrades to the pilot Timetable Builder application will improve functionality and consolidate the benefits provided by Course Finder and divisional timetable applications.
This project is part of the Next Generation Student Information Services (NGSIS) Program.
Project Overview
Student Application
The student Timetable Builder application will launch throughout 2022 displaying data from the following areas:
University of Toronto Scarborough
University of Toronto Mississauga
The Faculty of Arts & Science
The Faculty of Applied Science & Engineering
The Faculty of Music
The John H. Daniels Faculty of Architecture, Landscape and Design
Administrative Application

Starting in February 2022, Divisional administrators will be able to use Online Administrative Student Information System (OASIS) to access the Timetable Builder administrative interface. This interface gives academic divisions the ability to create a "legend" of division-specific information that will be displayed with each of its courses, as well as functionality to create and edit course or section-level notes individually or via a batch file upload.
Course Finder
Since the improved Timetable Builder will include all the functionality currently available in Course Finder, the latter application will be retired at the end of the winter 2022 session.
Benefits
Provides broader course search functionality, allowing students to filter courses by course code, course title or keyword as well as by department and subject area. Students can also filter by breadth requirements, instructor, course level, delivery mode, day preference, time preference, division and credit weight.
Allows students to build their timetables manually or algorithmically – students can use the auto-generate schedule feature with their time preference to create an optimal combination of course sections.
Provides near real-time information about course sections, including space availability, waitlists and easy-to-understand enrolment controls.
Allows students to export timetables as a shareable link or in PDF or PNG formats.
Allows students to browse courses across divisions.
Provides an intuitive, accessible and mobile-friendly interface.

Using a variety of filters, students can easily find courses that fit their schedule and program requirements.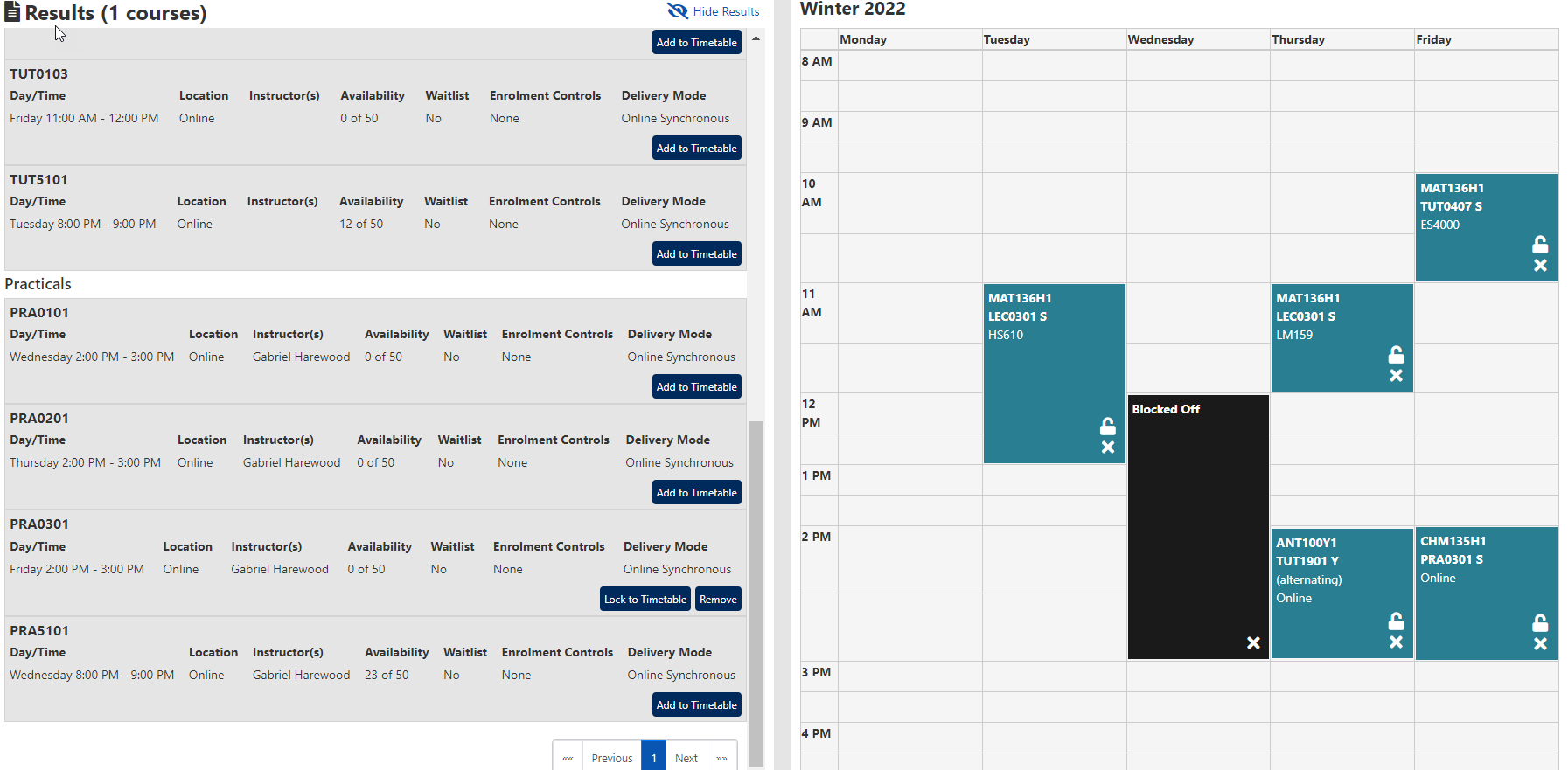 As students add courses to their timetable, they can see all details including, day/time, location, instructor(s), availability, waitlist details, enrolment controls and delivery mode. Students can also see a visual representation of their timetable, making it easier to optimize their schedules.