Student Advising Service
PROJECT OVERVIEW
Following close consultations with divisions, the University of Toronto is currently implementing an enterprise vendor application, Salesforce, to support academic divisions in transforming their student advising services. This innovative solution will present the interconnected student story, streamline the student and staff experience, promote evidence-based student support practices, ensure consistent and transparent service delivery, and increase administrative efficiencies.
Enterprise Applications & Solutions Integration is currently working in partnership with the Office of the Vice-Provost, Innovations in Undergraduate Education to implement the solution with the Faculty of Arts & Science and the Faculty of Kinesiology & Physical Education. After which, the service will be assessed for future expansion to other divisions.
What is the Student Advising Service?
U of T will be implementing the Salesforce Student Success Hub for Higher Education platform to enable consistent, best practice advising within and between divisions through effective access to, interaction with, and management of a comprehensive student advising record.
Why Transform the Student Advising Process?
Many current advising practices within the academic divisions rely on manual processes that are supported by a range of tools and varying practices. This poses challenges for students and staff as they seek and provide consistent, timely and holistic guidance regarding critical issues in their journey at the University. Given these challenges in the advising landscape, U of T is implementing the Student Advising Service to make it easier for students to navigate resources in the community and receive help when and where they need it.
BENEFITS
The new Student Advising Service will establish a foundational system capable of meeting both student and advisor needs at its initial launch with the potential for future improvements as the system matures. When complete, the full solution will:
Staff 
Provide insights into the interconnected student journey.
Consolidate student details through advisor notes and comprehensive profiles.
Proactively identify issues students are facing, allowing advisors to develop success plans and follow students' progress.
Allow advisors to efficiently refer students to Faculty-based and shared services.
Provide actionable intelligence and insights leading to improved decision-making capabilities.
Students 
Allow students to quickly find the information they need when they need it using a common advising solution.
Provide multiple ways to seek advising help, including with an advisor, attending a walk-in appointment, accessing the Student Advising Service knowledge base or submitting a support request.
Provide a supportive environment and equitable access to the opportunities available.
University of Toronto 
Support institutional goals for student success, quality service, and student retention and graduation.
Advance U of T's mission to re-imagine and re-invent undergraduate education and demonstrate its commitment to helping students connect to the community and pursue enriching experiences.
Advance the Next Generation Student Information Services (NGSIS) Program, which creates and deploys technological solutions that help students fully engage in rewarding learning experiences and achieve academic and personal success.
SYSTEM INTEGRATION
The Student Advising Service will provide a comprehensive view of student data sourced from multiple U of T applications.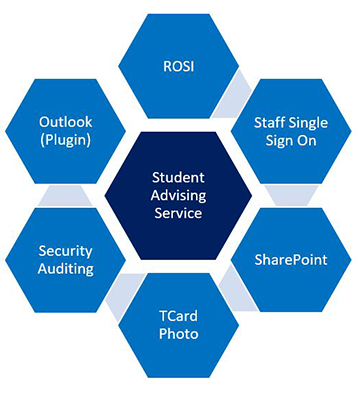 EXECUTIVE SPONSORSHIP
Dwayne Benjamin – Vice-Provost, Strategic Enrolment Management
Cathy Eberts – Director, Enterprise Applications and Deputy CIO
Scott Mabury – Vice-President, Operations and Real Estate Partnerships & Vice-Provost, Academic Operations
Susan McCahan – Vice-Provost, Academic Programs and Vice-Provost, Innovations in Undergraduate Education
Bo Wandschneider – Chief Information Officer
Sandy Welsh – Vice-Provost, Students
Melanie Woodin – Dean, Faculty of Arts & Science
PROJECT LEADERSHIP
Dwayne Benjamin – Vice-Provost, Strategic Enrolment Management
Randy Boyagoda – Vice-Dean, Undergraduate, Faculty of Arts & Science
Vikram Chadalawada – Assistant Director, Student Information Systems
Sotira Chrisanthidis – Director, Information & Instructional Technology, Faculty of Arts & Science
Cathy Eberts – Director, Enterprise Applications and Deputy CIO
Lisa Feng – Faculty Registrar and Director, Academic Services, Faculty of Arts & Science
Susan McCahan – Vice-Provost, Academic Programs and Vice-Provost, Innovations in Undergraduate Education
Wendy Pais – Registrar and Director of Student Services, Faculty of Kinesiology & Physical Education
Angelique Saweczko – University Registrar
Julian Weinrib – Director, Office of the Vice-Provost, Innovations in Undergraduate Education
Melanie Woodin – Dean, Faculty of Arts & Science
Ryan Woolfrey – Registrar, University College