Accommodated Tests and Exams
Accommodated Tests and Exams Accommodated Testing Services
Bringing accommodated tests and exams services to the next level
Following consultation with a cross-section of students, instructors, staff and senior leadership, Accommodated Testing Services (ATS) is bringing accommodated tests and exams services to the next level, implementing new processes and technology to support a growing need at the University.
Users will find the process transparent, seamless and intuitive, providing easy online access to information through pre-existing University platforms.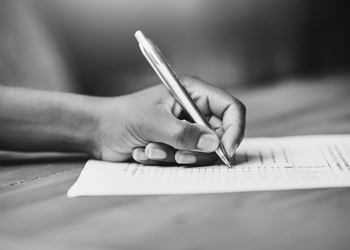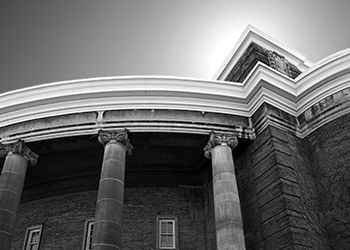 For students, ACORN will replace existing outdated technology and will enable convenient access to make and view bookings with a modern, user-friendly interface. The Course Information System (CIS) will replace an email-based system for instructors and support staff, and will provide secure online submission and storage of test details and documents.
This project is part of the Next Generation Student Information Services (NGSIS) Program, which creates and deploys technological solutions that help students fully engage in rewarding learning experiences and achieve academic and personal success. It also helps to provide faculty and staff with a rich and supportive educational environment.
What is ATS?
ATS is responsible for coordinating quiz, term test, and final exam accommodations for students with documented disabilities who are registered with Accessibility Services on the St. George Campus. Working cooperatively with Accessibility Services and the institution's faculty and staff, ATS plays a vital role in the execution of the University of Toronto's commitment to accessibility.
Why transform the accommodation process?
The existing processes and technology supporting accommodated tests were implemented in 2010 when ATS received approximately 5,000 accommodation requests per year. Today, ATS receives over 20,000 requests per year with a steady increase of 12 to 20 per cent each year.
Given this, in early 2018 ATS completed an initial review of its processes and practices and conducted an extensive user survey. The outcomes of this review and survey form the basis of this project to improve services for students, instructors and staff.
BENEFITS 
Students
Convenient use of familiar student system, ACORN
Transparent display of requests and bookings
Modern user experience
Centralized interaction, communication and tracking
Instructors
Increased efficiency by moving from an email-based system to the integrated, seamless Course Information System (CIS)
Secure test and exam submission
Increased process transparency and student details
Staff
Coordinated process through central system, decreasing email and paper-based forms, test details and test documents
Comprehensive notifications and alerts to keep staff informed of updates and changes
Integration with ACORN and CIS modules for improved data accuracy
Efficient space allocation
Improved user experience for continually growing commitment of time and resources
FUTURE VISION: SYSTEM INTEGRATION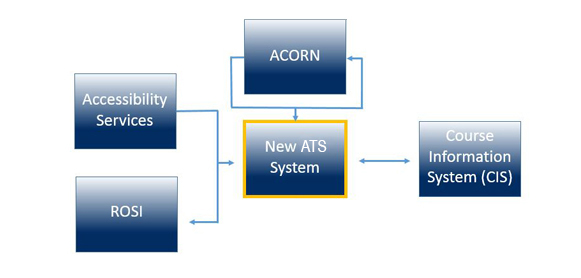 CONTACT
Need help? Contact ats.info@utoronto.ca
Questions about ATS processes? Visit the ATS website
PROJECT LEADERSHIP
Steven Bailey – Director ACE
Cathy Eberts – Director, Enterprise Applications and Deputy CIO
Donald Boere – Assistant Principal & Registrar, Innis College
Alana Bolan – Associate Dean ARTSC
Avi Hyman – Director ACT
Richard Levin – Executive Director, Enrolment Services & University Registrar
Daniella Mallinick – Director, Academic Programs, Planninng & Quality Assurance
Susan McCahan – Chair, Vice-Provost, Innovations in Undergraduate Education
Sian Miekle – Director ITS Libraries
Andrew Petersen – Vice Dean UTM
Mark Schmuckler – Vice Dean UTSC
Ashley Stirling – Vice Dean KPE
Julian Weinrib – Director, Office of the Vice-Provost, Innovations in Undergraduate Education