What does it take to be Executive Director (ED) of Enterprise Applications & Solutions Integration (EASI)? Darshan Harrinanan, a project manager with EASI, found out on Thursday, January 31, when he donned the grey turtleneck and took the reins from Cathy Eberts for an hour. He won the prize to be Cathy's replacement at a previous event called EASI Discovery Days.
Before Harrinanan arrived at the office, he faced a harrowing commute after being stuck on a GO train for two and a half hours in -21 degree weather – with the doors wide open.
Find out how he fared during this action-packed hour.
When you first arrived to replace Cathy, what did you expect?
After freezing during my morning commute and a brisk walk from Union Station, I thought that being ED would be easy. But I was in for a lot of surprises! To start, I wasn't expecting to be sworn in as the new Cathy. I especially liked the part about "being kind to animals and the environment."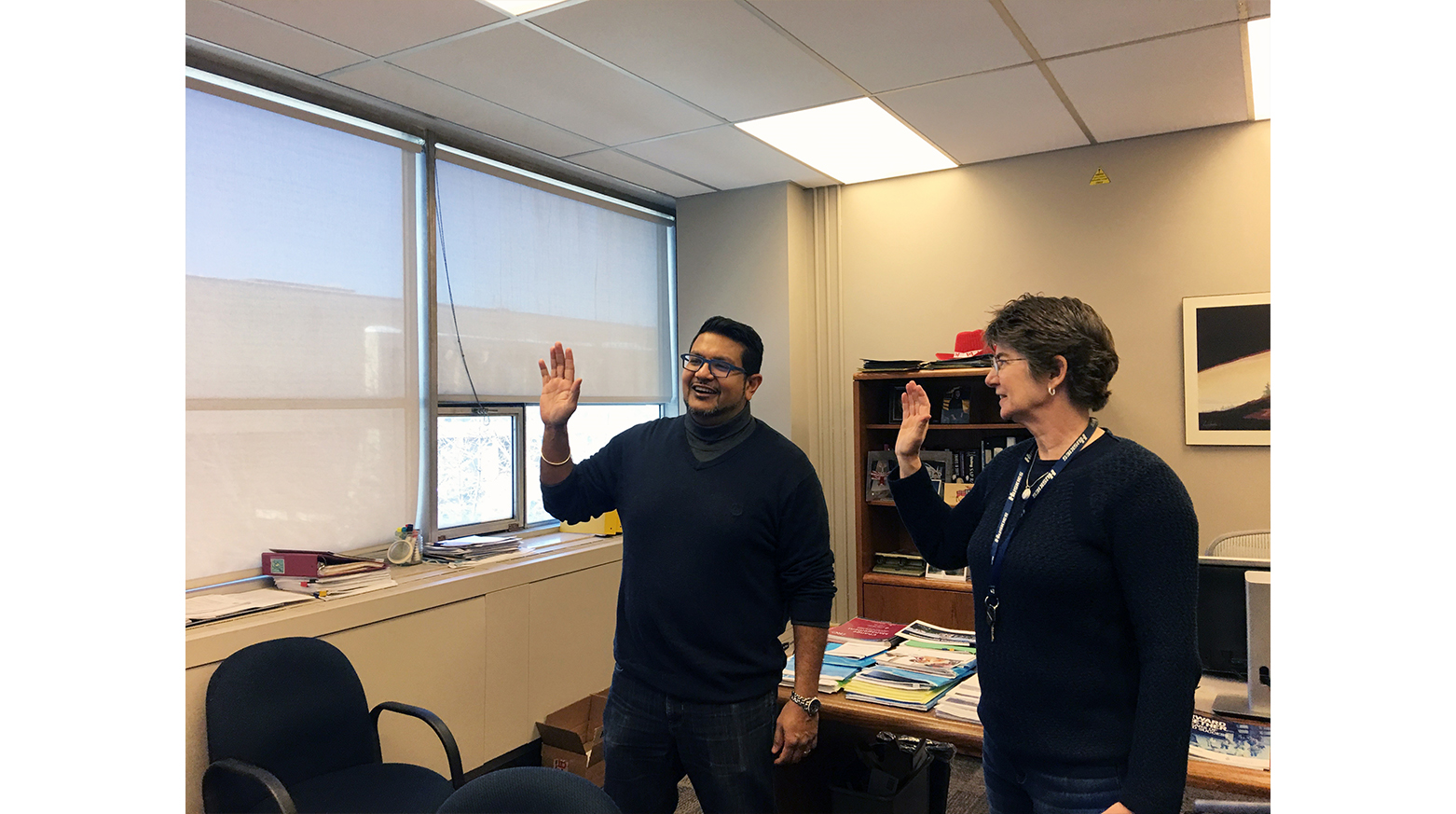 The official EASI ED swearing in ceremony.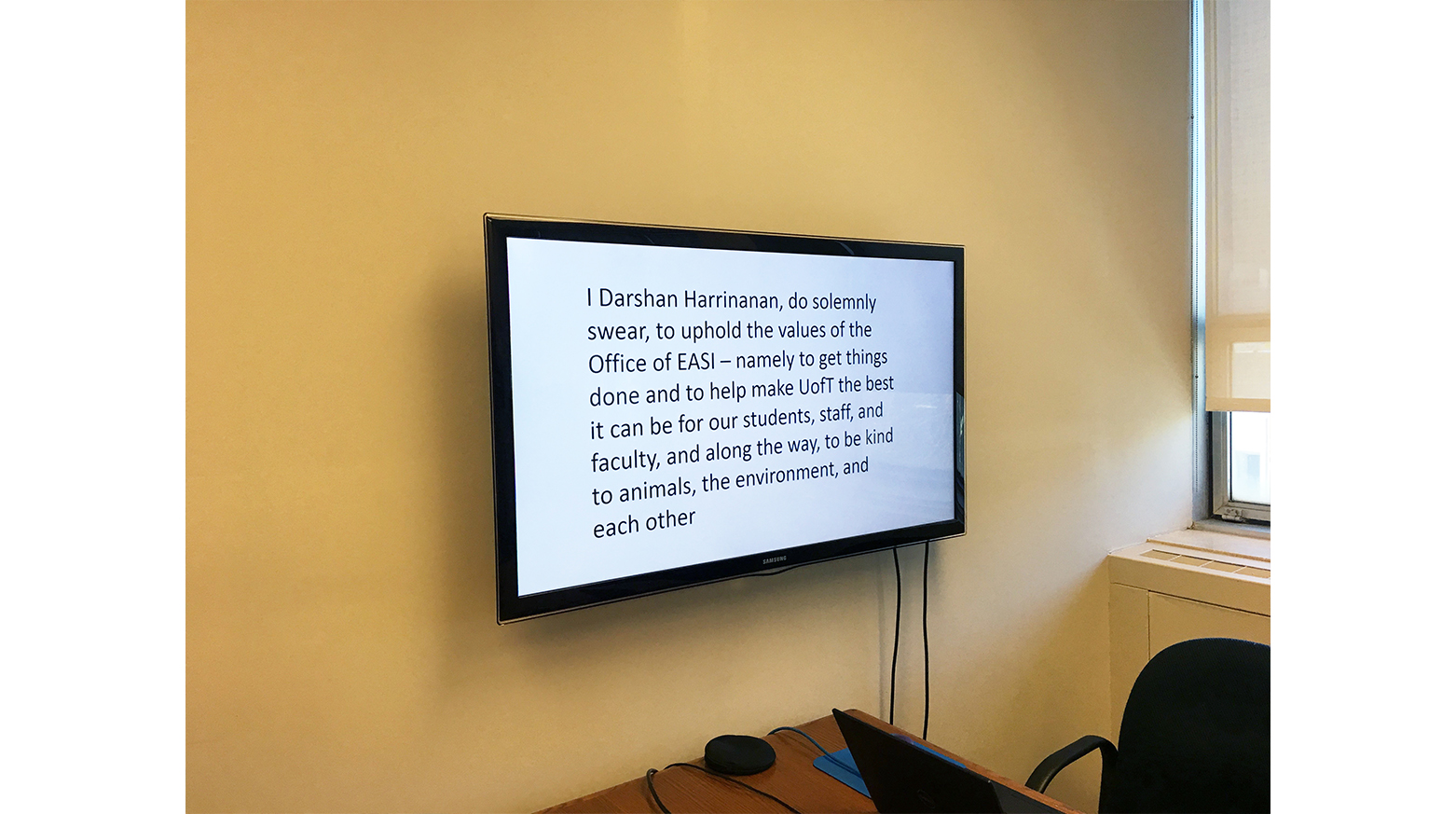 Alex Dault, who is regularly Cathy's assistant, gave me an agenda that was pretty sparse, so I thought this was going to be a cake walk. But it became hectic really quickly and it turned into chaos. The only thing that went according to the agenda was the managers' meeting. Everything else was random.
What happened during the hour?
Luckily I had a communications update from Alex and Katie Babcock and that helped me to prepare for the hour. Right off the top, Joanne Sukhai, Kaelyn Lindquist and Kelly Jay stormed my office to complain about building safety. Shortly after, Richard Chow and Dana Pogaceanu arrived to complain about how cold it is, so I offered them hot chocolate to warm up the situation – hot chocolate makes everything better, as my kids say.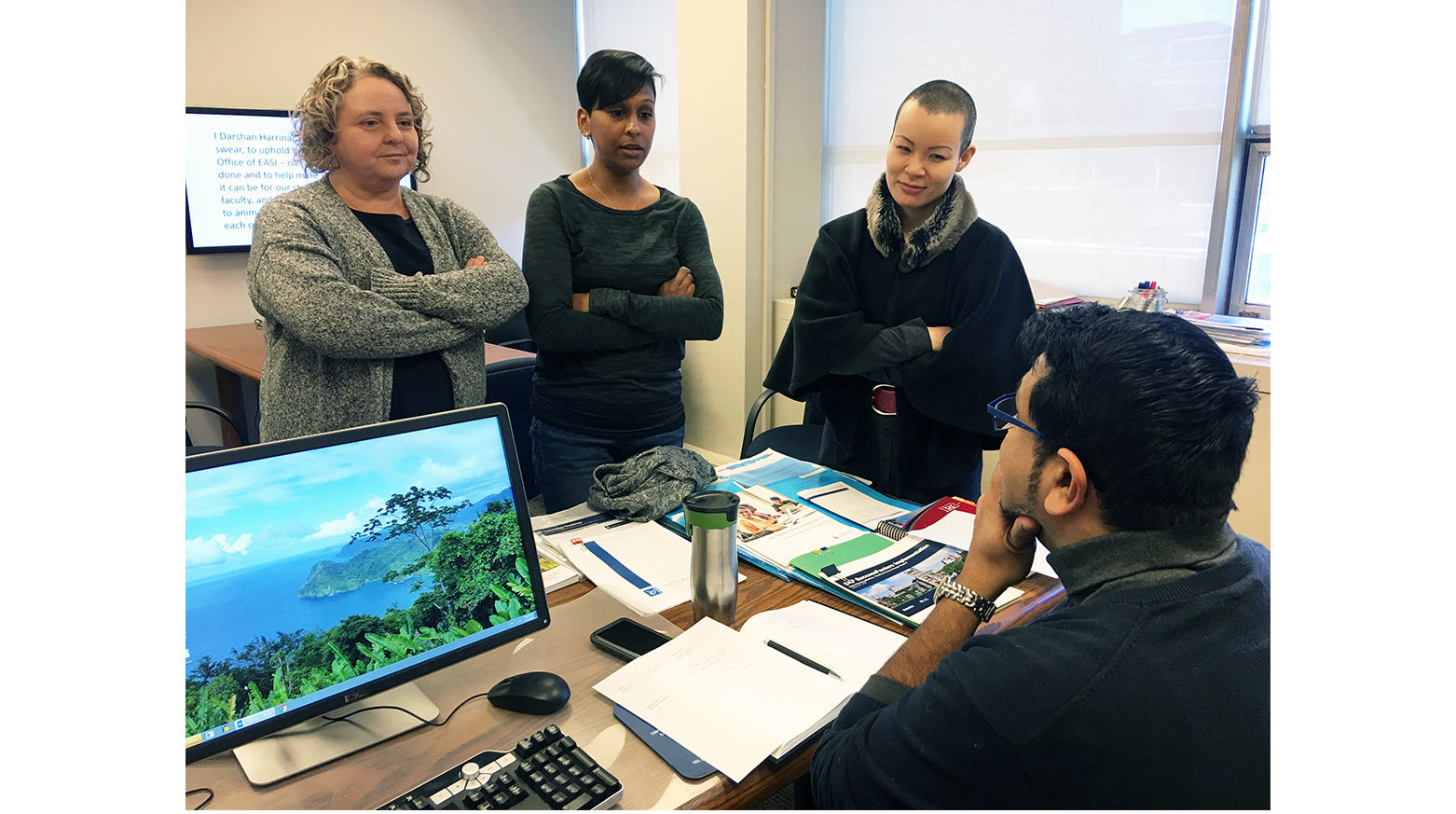 Kelly Jay, Joanne Sukhai and Kaelyn Lindquist air their grievances.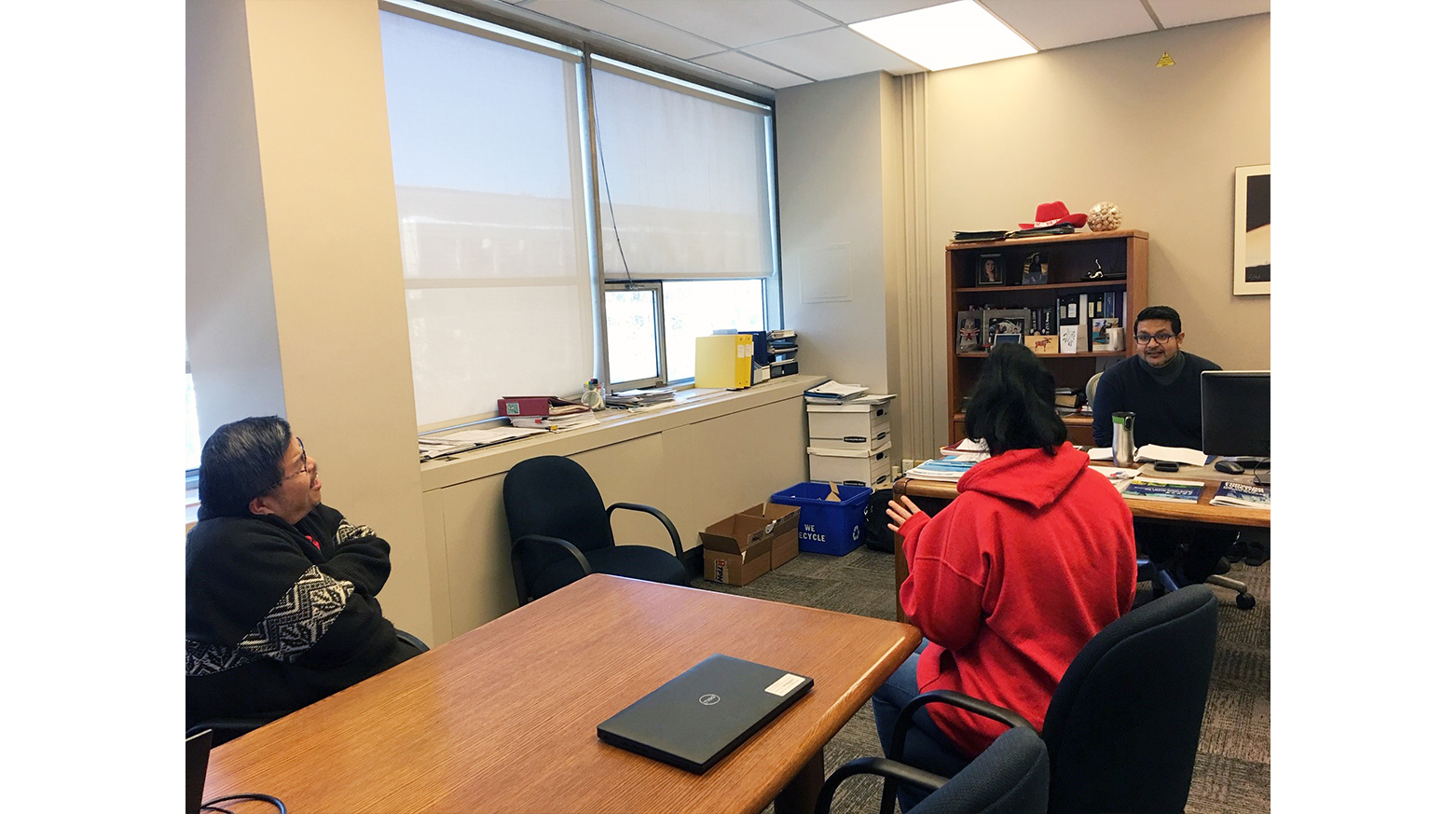 Richard Chow and Dana Pogaceanu jump in on the action.
Then Bo Wandschneider dropped by to discuss the ITS strategic priorities and budget cuts that was a really serious meeting but I benefitted from some of my knowledge gained from my  'previous role'.
Bo Wandschneider makes a surprise visit.
Shortly after, I met with the managers to discuss expanding the size of the kitchens at 215 Huron Street. Vik Chadalawada said that people were going bananas and Gerry Lindo kept hitting home the fact that we have to meet deliverables while keeping staff productive and motivated. I thought there was going to be an uprising, but I assured them we would need to look at our priorities before accommodating the request. Alex will follow-up on some analysis.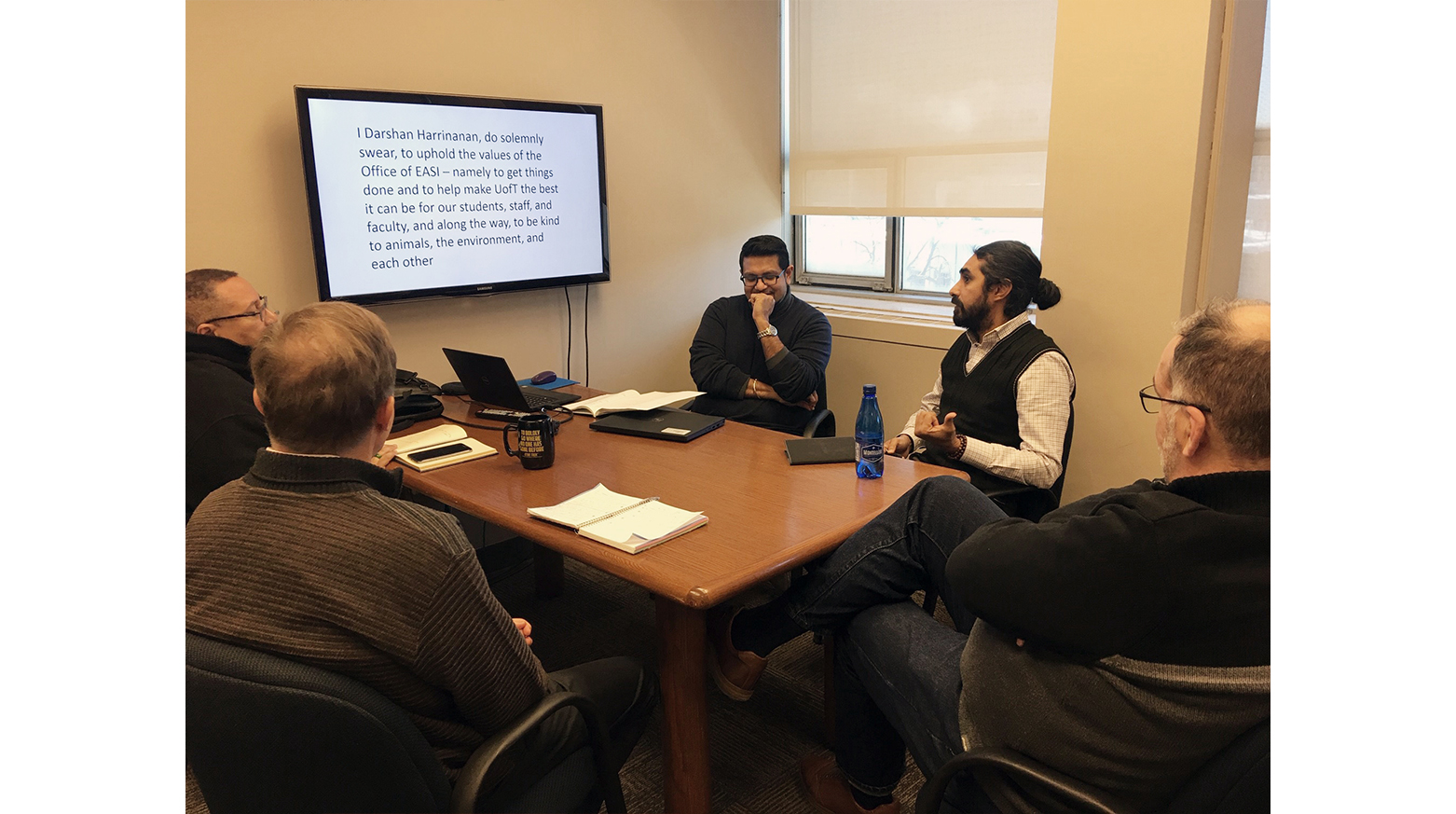 EASI's managers make their case.
After that, Pamela Harris and I had a confidential closed-door meeting and Randy Samsoondar dropped by regarding an expense reimbursement claim for an Uber ride he took to OISE. Suddenly, David Lock burst into my office. Apparently, David had been trying to download Game of Thrones to his machine and was now locked out by ransom-ware. Things just ramped up from there.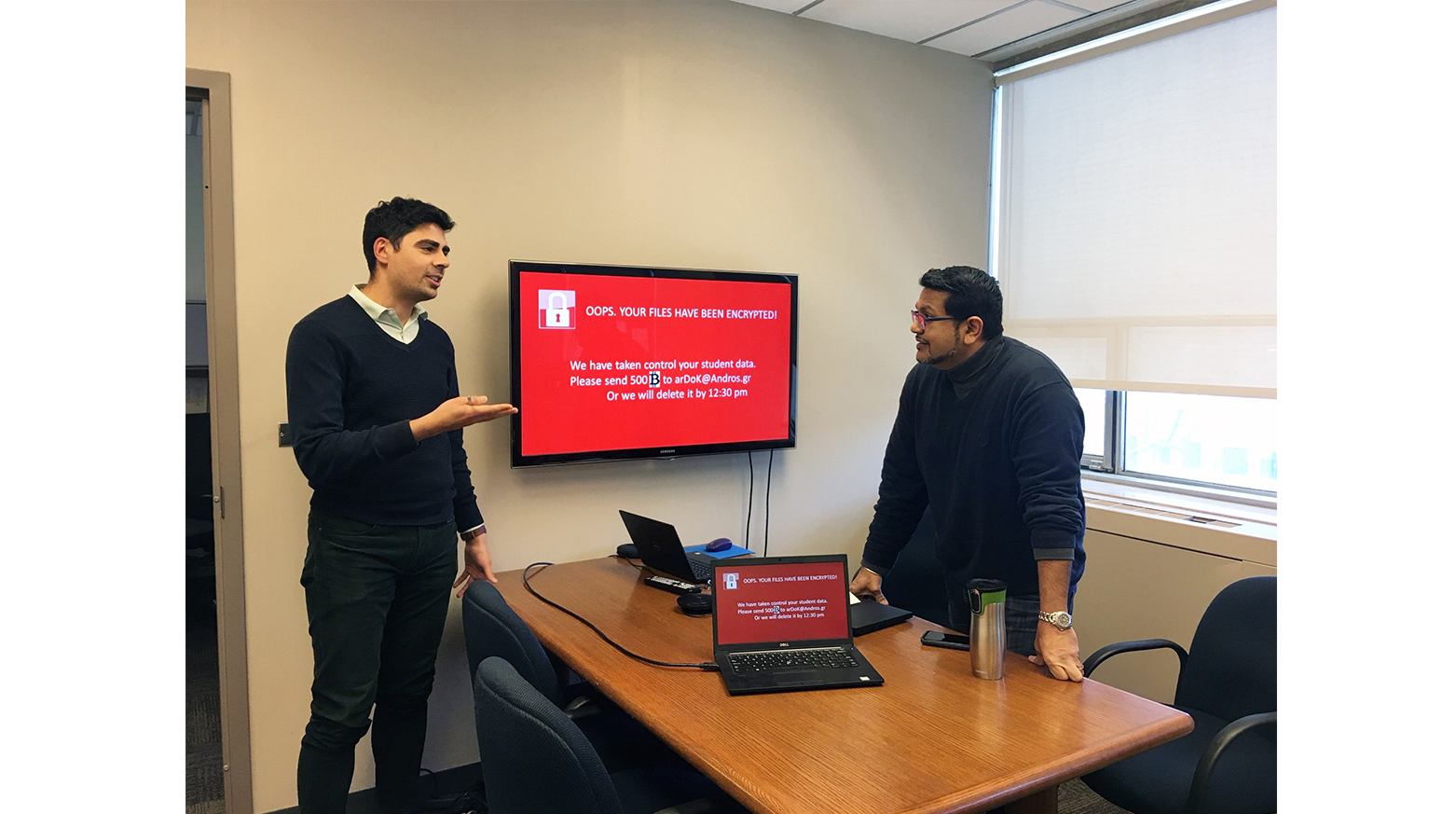 Randy Samsoondar asks for reimbursement.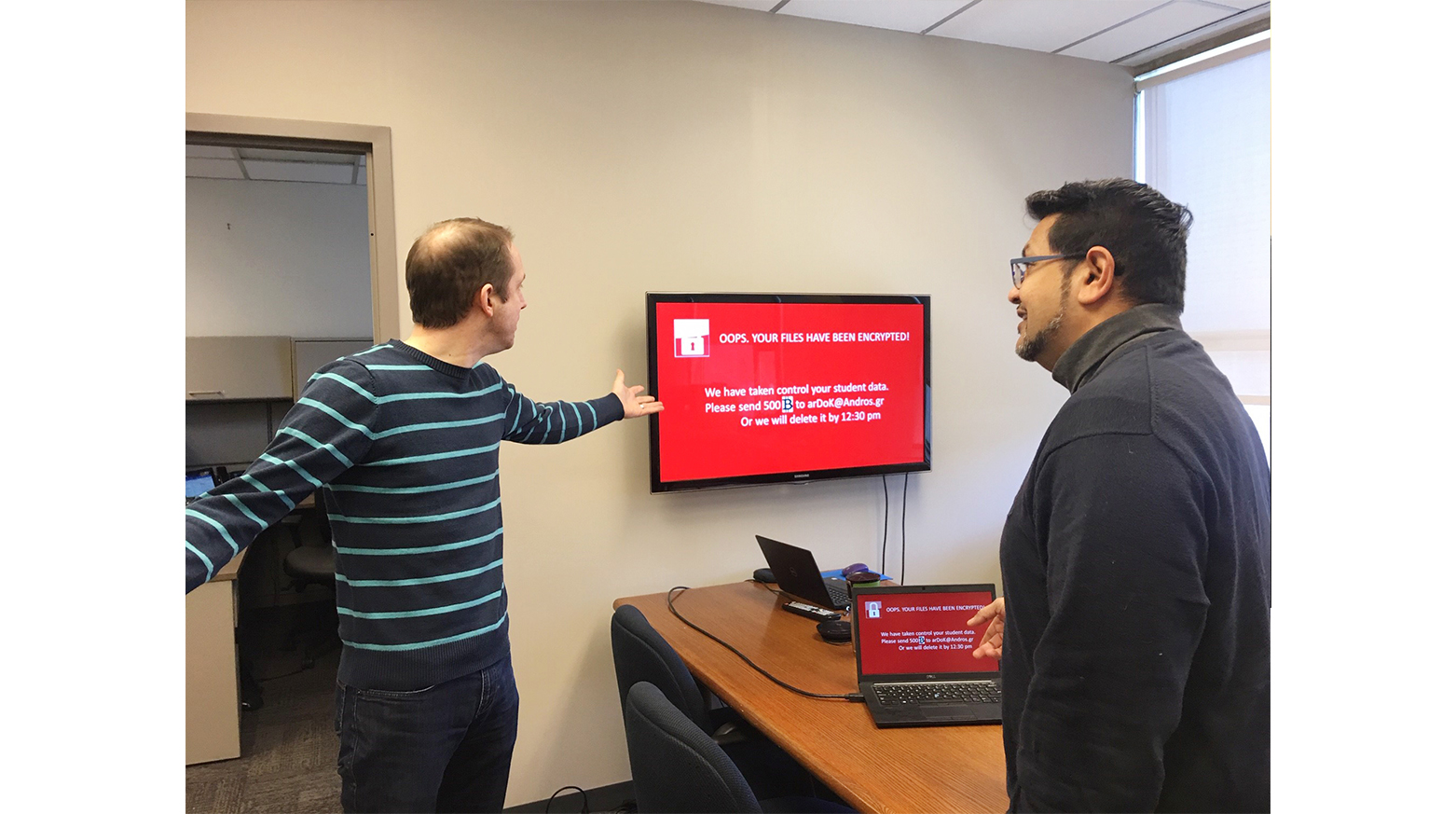 David Lock is foiled by ransom-ware.
John Ogg dropped by to complain about a contract issue, Gerry Lindo came in to say that the financial systems were offline, and Frank Boshoff came by to say that there had been a breach with the student information system. Everything seemed to be falling apart!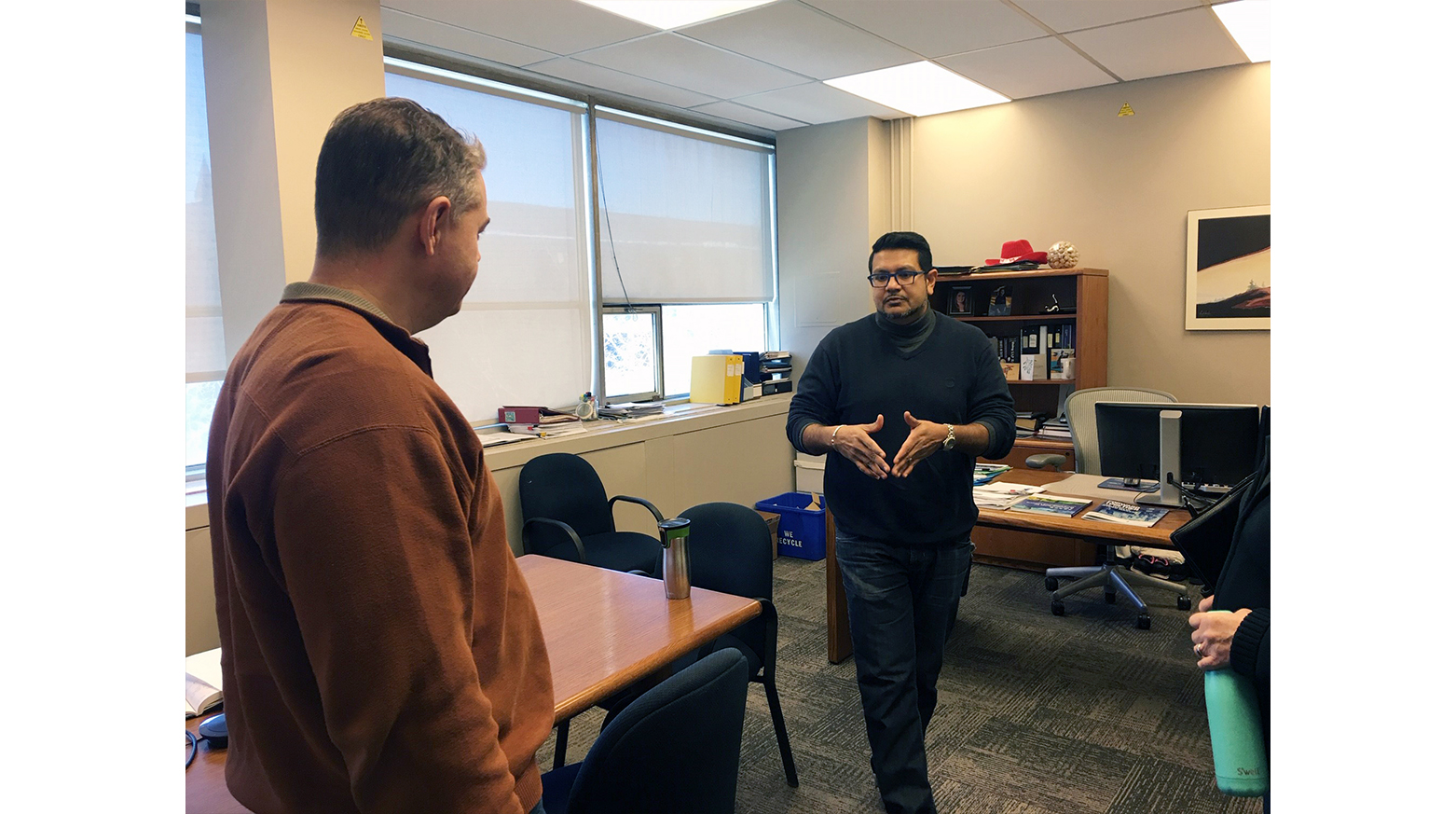 John Ogg tries to resolve contract issue.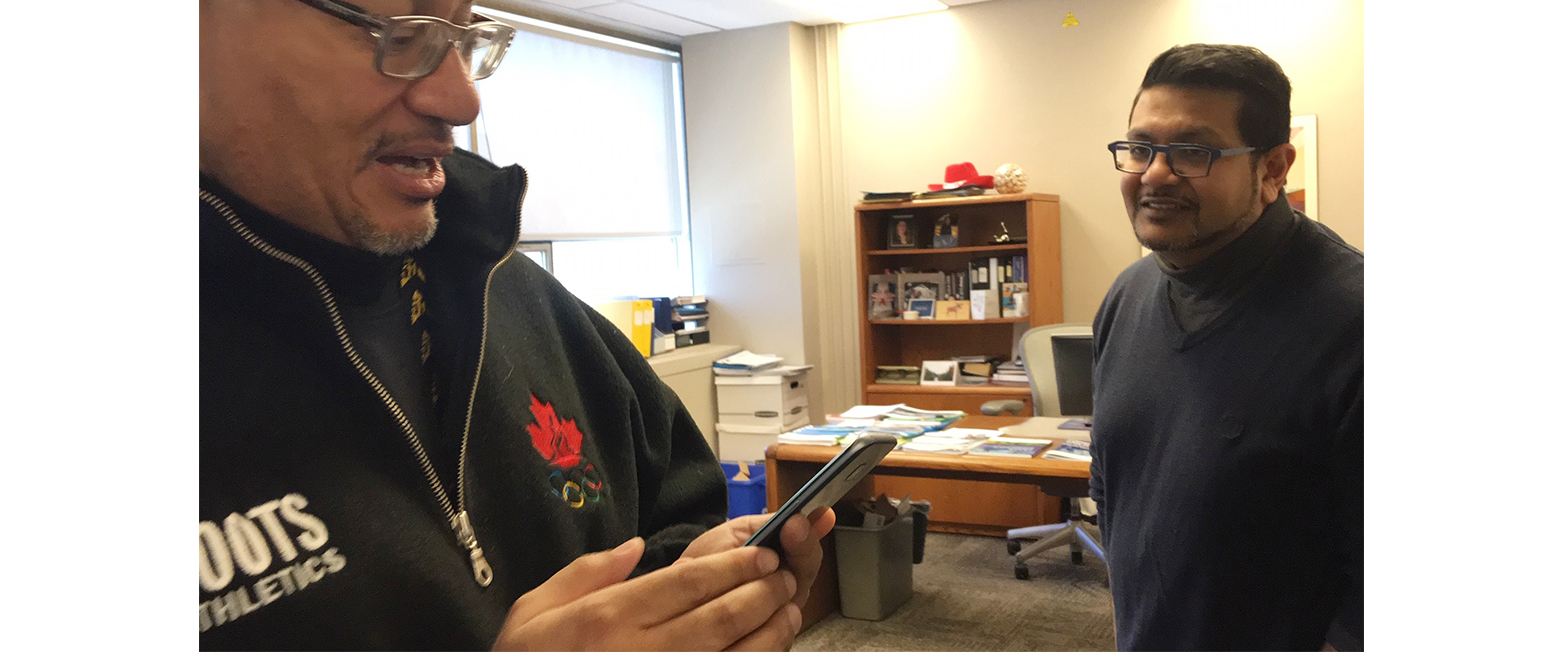 Gerry Lindo raises alert that financial systems are down.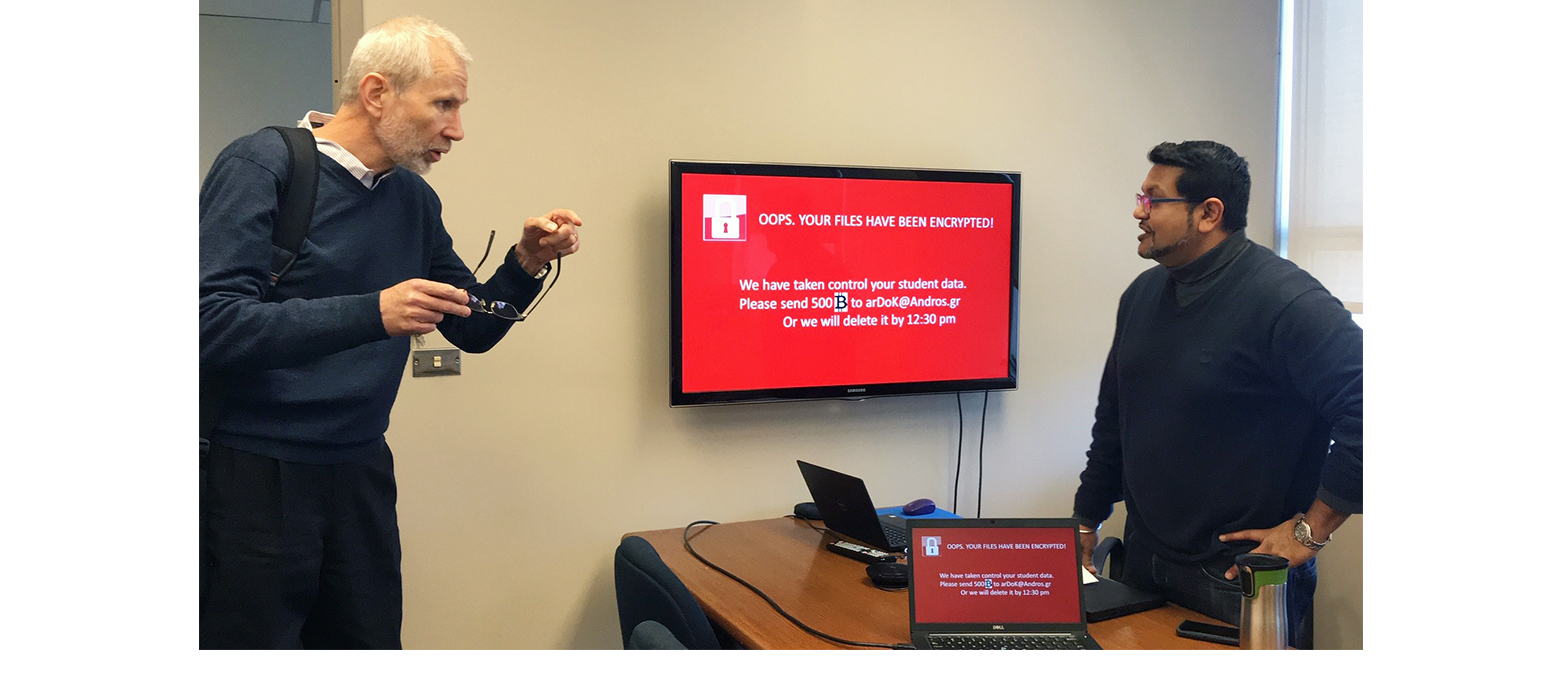 Frank Boshoff adds to the tension with news of a student information system breach.
To top it off, Joe Bate and Sarosh Jamal called about Payment Card Industry compliance for our applications and I assured them that we are compliant. Joe was having a hard time holding it together.
Cathy came back and she was sworn back in and I could breathe a sigh of relief. The storm was over.
What were you thinking when it became more and more chaotic?
Oh, this was just a day in the life for Cathy. Issues arise and we need to deal with them, and it's important to keep a level head and not overreact. Always keeping the prime directives in mind (see oath).
What were you most surprised about with this experience?
When Bo dropped by I wasn't sure whether he was part of the plan. He kept a totally straight face and we had a very serious discussion about the strategic plan. Luckily, he was asking for help with projects I'm involved in. It was only at the end that he said he was in on it – impressive acting!
What are your main takeaways from the hour?
It was a great experience and it's something I can certainly see myself doing when I grow up. The turtleneck really put me in the right frame of mind. I also really relied on Alex to make sure many plans were put into action.
You have to have a good understanding of every application you need to keep you staff motivated, have a sense of humour, and be the calm person in room. The priorities vary so much from trivialities to absolute chaos. You have to assess a situation quickly and Cathy certainly does that on a daily basis.
If you empower your leaders and you have shared vision, it makes the work so much easier. Then we're all swimming in the same direction.
What was Cathy doing during your hour of action?
I'm not sure…I hope she was taking a break!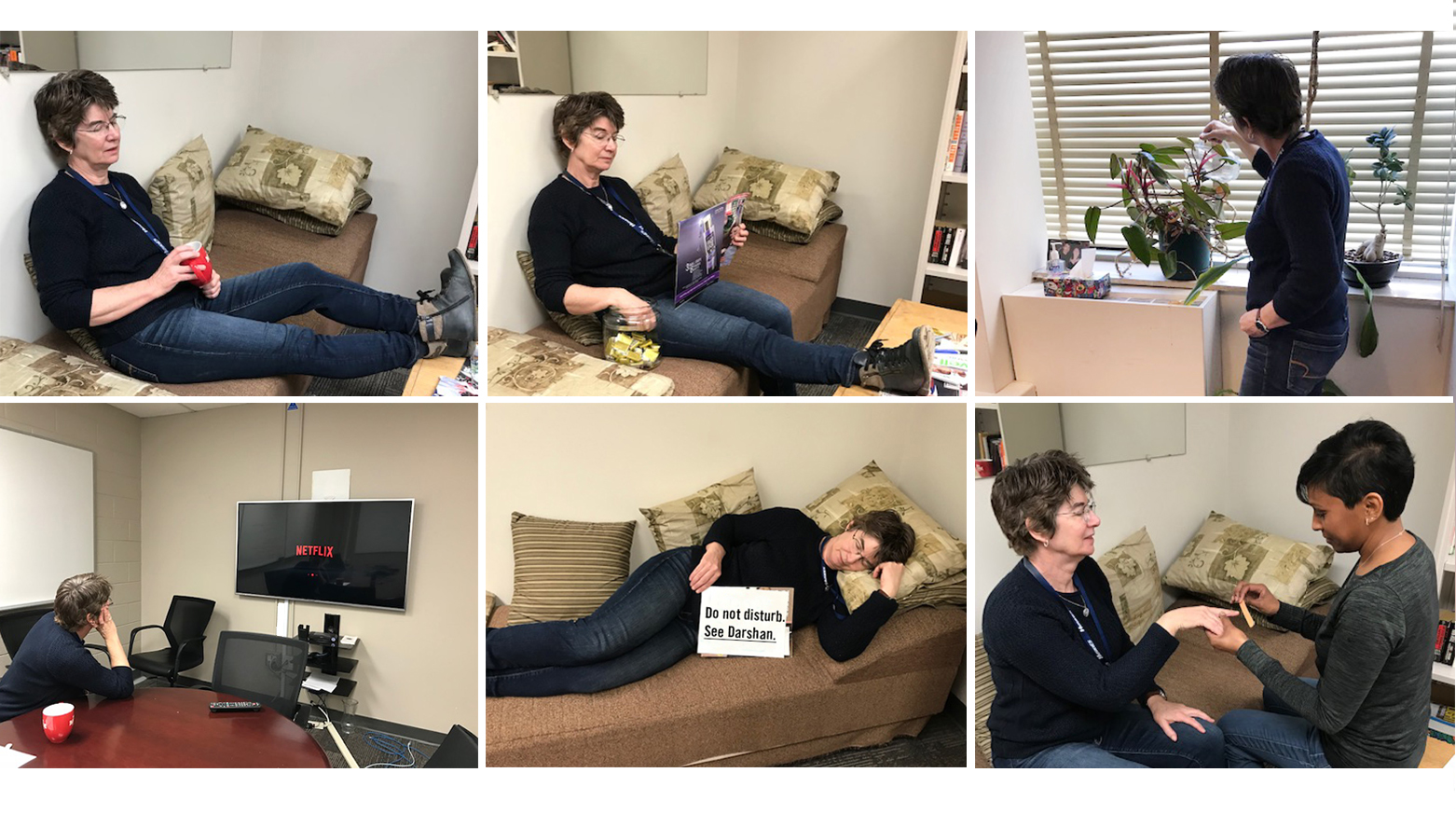 Cathy takes a well-deserved break.
Would you do it again?
Oh yeah! But I would take the time to have breakfast before I got into the office – because I wouldn't have a chance to eat here unless I closed the door!