Congratulations to Mike Ryall, who will be retiring on August 31, 2022 after 26 years of dedicated service to U of T.
Over the years, Mike has been a key member of IT at U of T, and has always supported the needs of EASI staff and users across the university. When people need help, they call Mike. He has consistently made himself available to solve complex issues, and his in-depth historical knowledge of U of T has proven invaluable.
Learn more about Mike below, and please join me in wishing him all the best in the future thanking him for his dedication!
Cathy Eberts
Director Enterprise Applications and Deputy CIO
---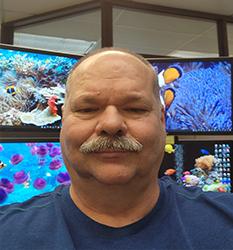 Michael Ryall, Computer Network Support Specialist
Joined U of T: October 1, 1996
Last day of work: May 31, 2022
Retirement: August 31, 2022
Describe your background and how you arrived at EASI
I've had a couple of sessions working at U of T. The first one was working as a programmer for four years starting in the 1980s for the Information Student Systems group. I then left for an opportunity at IBM. After a couple of years, the IBM location I was working at became Celestica and I was laid off.
One of the things that interested me at Celestica was LAN administration and there was talk of the mainframe going away, so I thought it would be a good time for a bit of a career path change. I went back to school for about six months to learn about networking and got my Certified Novell Engineer designation. After a couple of small contracts I got back into my old U of T department, now called Student Information Systems, on a contract assisting the senior LAN administrator. The senior LAN administrator had some health issues and was away for a while and I did some major upgrades and changes, and he didn't know how to do things when he got back. He ended up finding another job at the university, so my contract became permanent.
The department moved from Robarts Library to 246 Bloor St., and we took over the 6th and 7th floors. There were all kinds of changes, and I also became involved in a lot of the renovation planning at 246 Bloor. I remained there until Information Technology Services was formed and merged the various IT groups. I then became part of a desktop support group, now called the Digital Workplace, that has gone through many iterations and I eventually landed in EASI.
What will you remember most about EASI?
Many of the people in EASI have become very good loyal friends over the years and will be missed when I leave. They have also been a fountain of knowledge.
What will you remember most about U of T?
Over the years I've been contacted to help fix various problems. It always makes you feel good when someone is extremely grateful that you reached out to them and made things better.
What do you plan to do in retirement?
These last couple of years have been tough. My initial plan is to go down to Florida for the summer and take it easy kayaking, golfing and avoiding computers. If I get the computer bug again, I might look into a contract when I get back.