Congratulations to June Cheng, who will be retiring on February 28 after 33 years of dedicated service to U of T.
Over the years, June has been a key member of the Student Information Systems team. She has extensive business and system knowledge in all areas of ROSI and is unmatched in understanding admissions and the complexity of our interaction with OUAC for applications, admissions and transcripts.
Learn more about June below, and please join me in wishing her all the best in the future thanking her for her dedication!
Cathy Eberts
Director Enterprise Applications and Deputy CIO
---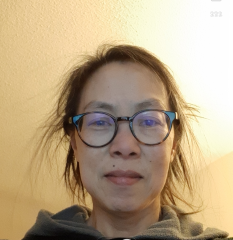 June Cheng, Senior Developer and Project Supervisor
Joined U of T: August 1, 1989
Last day of work: January 13, 2023
Retirement: February 28, 2023
Describe your background and how you arrived at EASI
I studied Computer Science, so when I arrived in Canada in 1989, I naturally looked for a programming job. My first job in Canada was for an insurance company, but I switched within a month when I received the offer from U of T. I never regretted quitting that job as I love working here at U of T so much that I stayed for the next 33 years. During that time I didn't change departments, but the department changed itself – it merged and split so many times that I can't even keep track of – and I somehow landed with EASI.
I still remember the day I came to U of T for the interview 33 years ago (I think EASI was called SRS). I saw a guy in shorts coming out of the office, holding a coffee pot to get water and I thought he was an office assistance (I guess it's a culture difference between here and Hong Kong, where I came from). He was actually one of the interviewers and in fact, the Director of the department! People are so casual here and back then "SRS" was a very small and homey environment, and it has now grown so much bigger into an "Enterprise."
What will you remember most about EASI?
I have always worked on the Student Record System, which I really enjoy. There have been many platform and technology changes over the years, plus there's unlimited business knowledge so I just could never learn everything. It has been a very fulfilling job. I really love coding (I feel it's a honeymoon period when I do coding – of course, if there is no deadline – and if I don't need to test as I hate testing but no luck in skipping that). While we always face challenges and frustrations, I still love this place, the people, and the work, and it had been a true blessing that I could be a part of it.
I love and will dearly miss and remember many of my co-workers from all these years. I was very lucky to come across many nice, intelligent, and dedicated people here: peers/mentors from within SIS and EASI, users from divisions/departments, and even external partners. All the great teamwork and collaborations we just can't do without. All the thoughtfulness to enhance the system to be more user-friendly for both the users and those who support them. Everyone is so willing to help and teach; they are supportive and encouraging; they remind me of things; keep me honest; share ideas, knowledge, experiences and frustrations; some are my sounding board; and they see when I need help and jump in to rescue me. And there have been tons of treats (and some homemade); and of course all the fun and humor that makes me laugh; and their care that always touches me (both on a professional and personal level). I sincerely think that this place is full of angels and many have become good and dear friends to me.
What will you remember most about U of T?
U of T really gave me a lot of fond memories that can last for a lifetime. I gave 33 years of my work life to U of T, but I've gained so much more. I've been rewarded with plenty of joyful moments, job satisfaction, knowledge and skills, and loving friends.
I want to thank all of these angels who have shaped me to be me. I really wish them all the best; that they get what they deserve; that people value their opinions and recognize their contributions; provide support and resources that they need; and that they have an abundant and fulfilling life.
I love the campus a lot too (even though I still prefer to wfh sssshhhh). I especially love the old historical architecture (I mean like Hart House, not like 215 Huron!). I also admire the people who create the beautiful landscaping around campus that I enjoy so much during the summer. St. George campus is special, and is blended into many other businesses, condos, and organizations while still keeping its uniqueness. It also gives us a wide variety of good food nearby.
What do you plan to do in retirement?
I've got long to-do lists, usually I've got one for work and one for life. I can soon happily leave one behind (can I finish them!?) and focus on the other. Though I started to feel that I am losing my excuses to delay some of the life to-do items that I have less interest in doing. I also started to feel more intense family responsibilities now that work responsibilities are subsiding. But we've got to do what we have to do.
First things first, I'll go home (Hong Kong) for a longer visit – I haven't seen my mom and family in person for three years. I really need to declutter, and get back to some overdue maintenance for my home, yikes. I need to spend more time with my aging parents/in-laws and figure out how best to juggle between two families in two countries too. I will balance my life with some fun stuff hopefully like travelling (since everyone says to travel). Improve my cooking? And possibly learn to bake? Oh, I must get back to my favorite pottery and metal work. Perhaps learn a language so my brain won't die so fast!?!
I won't not-do anything…. I'm actually waiting to see what my "calling" may be (spiritual-wise) and see where to "serve"!?!? (I know, that's a big word), I mean, I want to do something and not being a couch potato, that's for sure… well….that's my plan for the time being.