Congratulations to George Mammoliti, who will be retiring on August 31 after 44 years of dedicated service to the University.
Learn more about George below, and please join me in wishing him all the best in the future!
Cathy Eberts
Executive Director, Enterprise Applications and Solutions Integration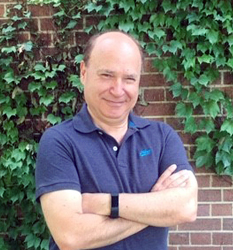 George Mammoliti
Business Information Analyst, Financial Information Systems
Joined U of T: July 21, 1975
Retirement: August 31, 2019
Last day in the office: on or about July 31, 2019
Describe your background and how you arrived at EASI
At retirement, I will have worked at U of T for over 44 years. I began my career here on July 21, 1975 in the Purchasing Dept., then moved to its Customs, Traffic and Taxes section, and later I was promoted to be the University's Travel Programme and Surplus Asset Disposals co-ordinator. As a result of my experience in these areas, in 1993 I was asked to be Purchasing's representative on the implementation team for the University's new SAP financial system (AMS), and following that, I was hired as one of the initial members of the FAST Team within Financial Services. Then in late 2000, it all led me to my current role back here in EASI.
What will you remember most about EASI?
Over so many years of rewarding work here in EASI (AMS), it will in fact, be the people with whom I have had the great privilege and pleasure to work with that I will remember most. Many colleagues became great friends, and some even like family. I am also very grateful for the great support of my managers and directors, including Marlies Burkhard, Pat Heslin, Graham Kemp, Cathy Eberts, and John Ogg.
What will you remember most about U of T?
Working here at U of T has been a varied, challenging and gratifying career. I am quite proud of the work that I have done, particularly the many departmental and university-wide (and even a few multi-institutional) changes that I have contributed to over the years. As well, I am also very appreciative of the faith shown in me by the various reporting levels that I have had the honour to work for during my career here. In addition to those already mentioned above, these would include: A. (Tom) Stilo (who first hired me, and who himself worked at  U of T for over 44 years), Tom Nippak, Neil Bishop, Mike Ferraro, Bob White, Tony Pieterse, Jim Laughlin, Pierre Piche, and Sheila Brown.
What do you plan to do in retirement?
A few years ago, I finally returned to writing and concentrating now solely on poetry, I hope to continue to challenge myself with its many types and inspirations. As well, and if all goes well, my wife and I hope to do more traveling, with one trip already booked and the next one in the planning stage. Taking courses such as art appreciation, and having time to do more timely/relaxing gardening are also in the plans.
What words of wisdom would you pass along to others?
Looking back over all these many years, I can truly say that if one tries to find at least some measure of enjoyment and learning in each job, whether it be in the tasks themselves or in the interactions with the people involved, then the work and the time will go by so much more quickly than one would imagine.
Change
The window open
Neither screen nor bars
And a light within
(2019)     George Mammoliti