Congratulations to Miki Harmath, who will be retiring on March 31 after 12 years of dedicated service to U of T.
Since 2015, Miki has been key to leading the Student Information Systems (SIS) development team, which supports many applications, including ACORN, ROSI, ROSI Express, Degree Explorer, the Course Information System, Timetable Builder, Accommodated Testing Services and much more. Prior to this, he was instrumental in leading the U of T and South African development teams for Kuali. He also led the development team during the launch of major projects, including the NGSIS Platform Modernization Project, which was a large three-year upgrade to the SIS platform. We'll miss Miki's team building, focus on client satisfaction, as well as his sense of humour.
Learn more about Miki below, and please join me in wishing him all the best in the future!
Cathy Eberts
Director Enterprise Applications and Deputy CIO
---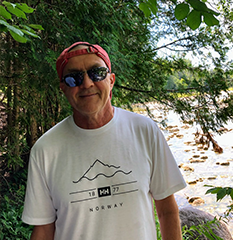 Miki Harmath, Manager, Application Development, Student Information Systems
Joined U of T: March 1, 2011
Last day of work and retirement: March 31, 2023
Describe your background and how you arrived at EASI
Long story short, after arriving in Toronto in 1986 as an engineer, I decided to try my luck as a Real Estate Agent (still have my brokerage). Within a short period of time, I discovered that it does not satisfy me so for five years I was studying computer science and worked as a contractor in the private sector. In 2011, Cathy, Frank and Hossein hired me (I hope they do not regret it😊) to support Student Web Services, ROSI Express, Degree Explorer and other apps. During the KUALI years, I led the U of T and the South African development teams and later the ACORN Development Team. Since fall 2015, I have been enjoying working as Manager, Application Development with a wonderful team at EASI.
What will you remember most about EASI?
Through various positions, I had the opportunity to grow professionally and personally. At EASI we do development the 'right way' closely following industry standards, which contrasts with the private sector where application development has too many shortcuts. I am most thankful for the wonderful people I have been working with and feel fortunate to have had the opportunity to be part of the team.
What will you remember most about U of T?
U of T has been constantly ranked as one of the top employers in Canada, has been ranked among the top 20 universities in the world, and is among the top two public institutions in North America in the Times Higher Education World University Rankings. It has been a privilege working for U of T – a world-class institution.
What do you plan to do in retirement?
It will be an 'active retirement'😊; I am planning to boost physical activity and travel. As well, I plan to explore 3D printing, enhance my real estate business and perhaps engage in several investments and renovation projects.