What started in March 2020, at the beginning of the COVID-19 pandemic, has now turned into a favorite tradition at Enterprise Applications & Solutions Integration (EASI). For close to three years, EASI staff have looked forward to tuning into "Radio 215" to stay informed while navigating the twists and turns of these challenging times.
"We started Radio 215, named after our location at 215 Huron Street, to keep our community connected when many staff began working remotely. Regular updates gave us a chance to share and inform in creative ways," says Cathy Eberts, director, enterprise applications and deputy CIO. "While Radio 215 has evolved over time, it continues to be a vital channel for keeping our staff up to date."
From March to April 2020, Eberts hosted these weekly virtual meetings and has continued with special editions ever since.
Some highlights included a behind-the-scenes view of U of T's Human Resources and Information Security, and perspectives on the student experience throughout the pandemic.
Broadcasts also featured the results of EASI pulse surveys, asking what shows or movies are trending in your home? What are your top distractions during the pandemic? What are your favorite jokes about COVID? And what do you miss most about 215 Huron Street? Episodes also provided a much-needed update on 215 Huron's plants, and the heroic watering provided by EASI staff who remained onsite.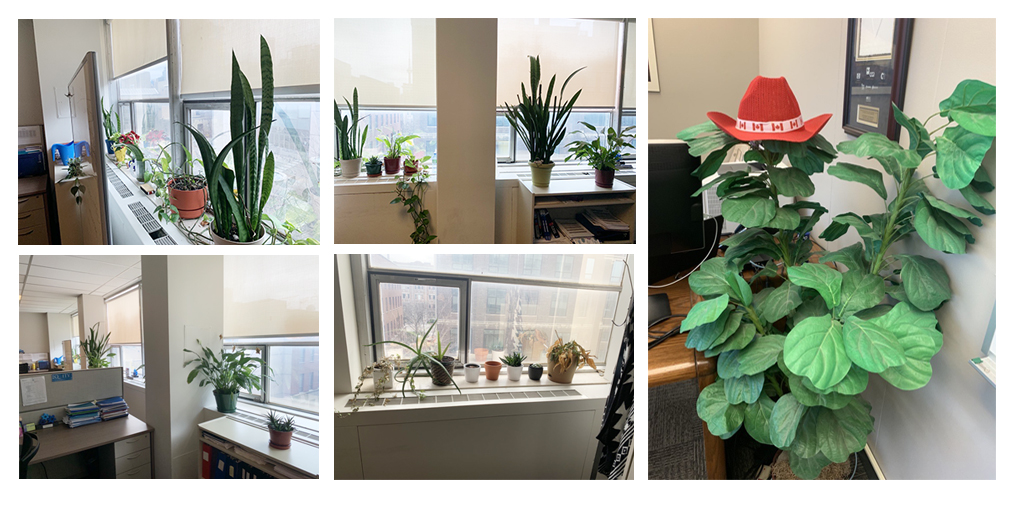 As many EASI staff worked remotely, the plants at 215 Huron Street took on a life of their own
"One of my favorite parts of Radio 215 was the Return to 215 song called 'Good Riddance (COVID-19)' based on Green Day's song. Calvin, Cathy's son, created the composition and she wrote the lyrics. It was an incredible amount of work and staff really appreciated them going above and beyond," says Vicki Vokas, senior manager, digital workplace with EASI.
As behind-the-scenes co-host, Vokas provided social activity updates and ensured that each episode ran smoothly.
In addition to regular episodes, special editions of Radio 215 welcomed back past staff members located around the world, and even welcomed Santa for a holiday send-off and a drone tour of the university.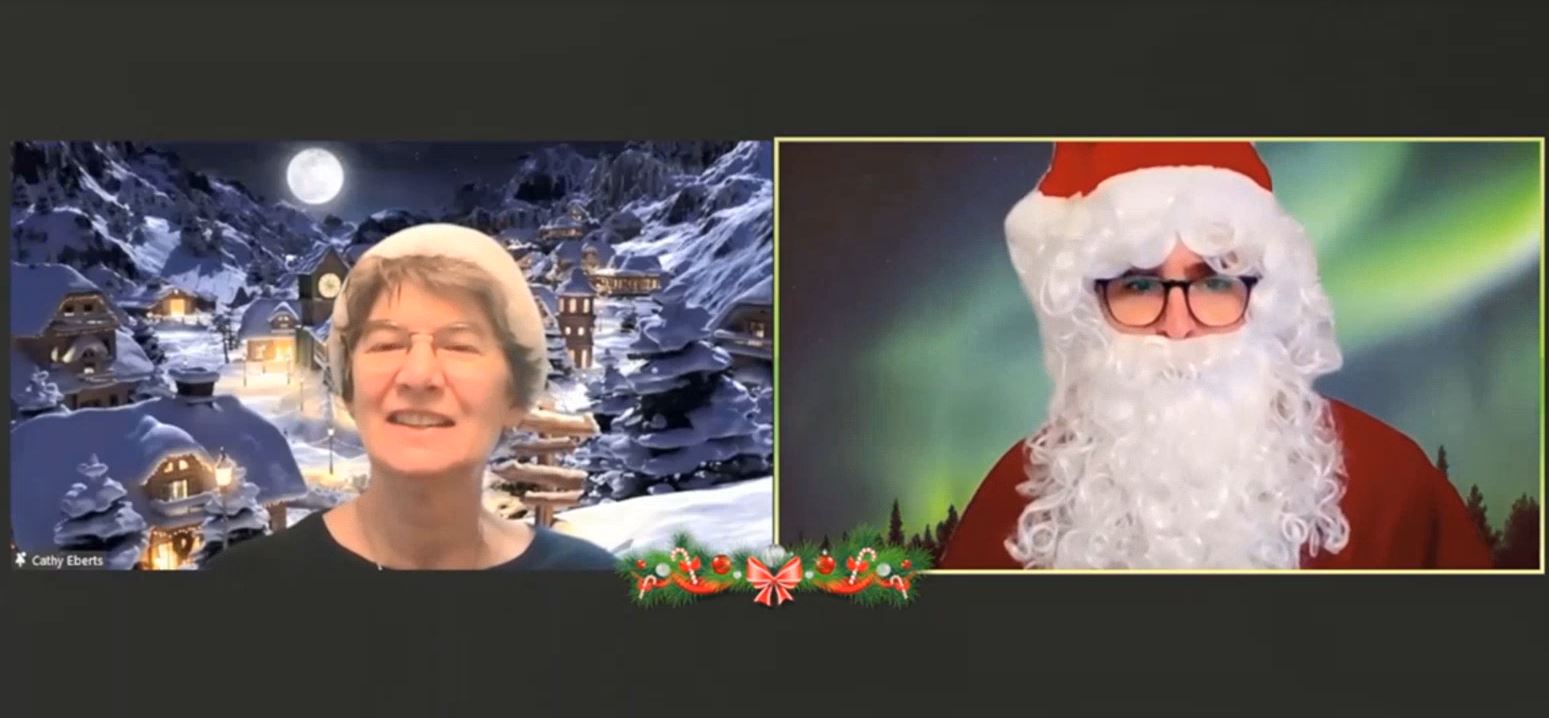 Eberts interviews Santa (Sinisa Markovic, Deputy University Registrar & Director, Operations)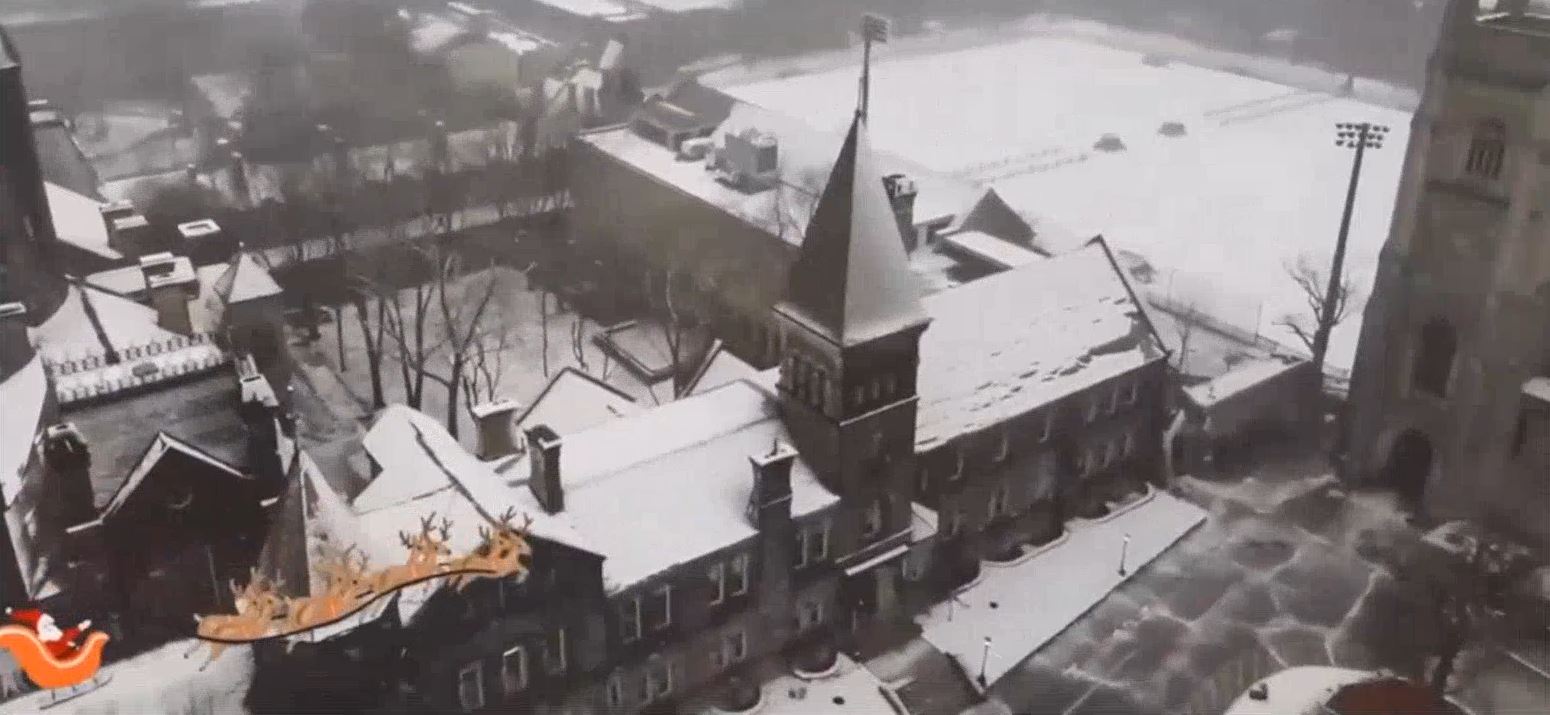 Santa takes EASI staff on a tour of the St. George campus
"I'm always looking forward to Radio 215! Each episode has been fun and very informative. Over the last few years, the broadcast was our main way to connect and hear news from EASI," says Aline Pruvot, services engagement coordinator. "I've learned a lot from it, and it helped me to stay motivated and keep sight of why what we are doing is so important."
What's next for the show?
"The creativity from Radio 215 has extended to our other meetings – we even had Buckley the donkey make a virtual appearance for our 2022 staff meeting," says Eberts. "We've had a lot of fun over the past few years, and we continue to plan for more adventures!" says Eberts.