Despite challenging circumstances with working during the pandemic, Enterprise Applications & Solutions Integration's (EASI) co-op students excelled during yet another year of the Vice President Operations & Real Estate Partnerships Professional Experience Program (OREP PEP).
This program is designed to provide undergraduate, graduate students and recent graduates with the opportunity to gain work experience in their field of study. This year, five students joined EASI to gain practical skills, knowledge and experience, working on a broad range of projects from SharePoint to Business Intelligence and User Experience and Process Design.
"Even though we've faced many challenges with the pandemic, it was important that our student summer experience program continued to grow," says Cathy Eberts, Director of Enterprise Applications and Deputy CIO. "Students gained the hands-on experience they need for the job market, and in return brought with them a wealth of creativity and new skills to our department."
They also brought an infusion of creative thinking and process improvements to each project, and helped EASI implement the latest strategies and processes.
What do these students have to say about their experiences and what do they plan to do in the future?
---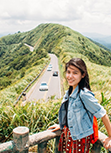 Name: Tiffany Kao
Position: Worked with the Enterprise Shared Services team on client migrations to SharePoint
Program/School: Second-year Faculty of Information (iSchool), Master of Information student in the Information Systems and Design Program, University of Toronto
As an Information Management Analyst at EASI, I had the opportunity to apply what I've learned at iSchool – particularly concepts in Information Architecture, UX design, and Project Management – on multiple SharePoint sites. SharePoint was completely new to me when I started, and I experienced a steep learning curve at the beginning. Nevertheless, I had a wonderful supervisor, who had a lot of trust in me, encouraged me, and gave me the freedom to manage projects independently. Working hands-on helped me gain a lot of confidence in my professional capabilities. Seeing my work fulfilling clients' needs and bringing them convenience to their everyday tasks made it all worthwhile. I am grateful for this experience, and I highly recommend everyone to try the co-op route!
---
Name: Yuting Liu
Position: Worked with the Digital Workplace team to respond to end users' requests
Program/School: Fourth-year Geographic Information Systems student, with minors in Mathematics and Computer Science, University of Toronto Mississauga Campus
While working with the EASI Digital Workplace team, I've been given the opportunity to directly interact and assist various clients, which has given me the ability to further develop and utilize both my technological and interpersonal skills. Every day brought a new set of problems to solve, which taught me the importance of being flexible and adaptable in order to serve my clients' needs and, in cases where I lacked the necessary knowledge, to quickly and effectively seek out what I needed. I've resolved issues ranging from networking and software problems to hardware failures.
My breadth of knowledge, as well as my ability to acquire new knowledge has benefited greatly from my time here at EASI, and will undoubtedly be useful in any of my future endeavors.
---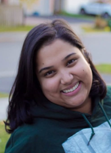 Name: Celeste Ramnarine
Position: Worked with the Enterprise Shared Services team as an Information Management Analyst (SharePoint Online)
Program/School: Second-year Faculty of Information (iSchool), Master of Information student specializing in Knowledge Management and Information Management (KMIM), University of Toronto
With the SharePoint Support team, I have been working on several projects that surround information management (IM), design, community support, and outreach. These projects have allowed me to collaborate with many members of the U of T community, learn from my experienced team leaders, develop my design and IM skills, and demonstrate my project management and problem-solving skills. My favourite project so far in my placement was creating, presenting and demonstrating in EASI's Connect & Learn showcase. My presentation was about integrating a Wiki (i.e. knowledge base) within an organization's SharePoint site and its associated benefits for organizational IM.
Working with EASI has been an evolutionary experience in my professional development. I am motivated to continue my position, growing and learning with insights from my MI program and SharePoint team.  
---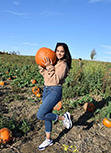 Name: Moulika Ranikunta
Position: Worked on the Power BI Infrastructure and Administration Project
Program/School: Third-year Mathematics and Statistics Undergraduate student, University of Toronto
As a member of the amazing EASI Power BI (Rangers) Administration and Infrastructure team, I've had the opportunity to explore Microsoft Power BI from the ground up and build documentation to support future users. I've learned how to analyze data in Power BI starting with loading the data in from multiple connections, preparing the data, creating and optimizing data models, visualizing data and working with the AI features within Power BI.
I do want to give a huge shoutout to my mentor Brenda Boshoff – she made my experience this summer absolutely stellar by going above and beyond to support me and the team, and she taught me many interesting facts about a professional workspace. Also, a huge shoutout to Titus, Dmytro and David for making every stand up meeting a fun one! The pandemic had its ups and downs but working with this team was the highlight of my summer. Given how much I've learned about Power BI, I am thinking of pursuing a career in this area once I graduate.
---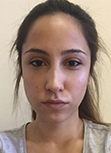 Name: Mikella Seth
Position: Worked with the User Experience and Process Design team on the UniversITy Service Catalogue project, assisting with user research, usability testing and UI refinements.
Program/School: First-year Faculty of Information (iSchool), Master of Information student with a double concentration in UX Design and Data Science, University of Toronto
I had the pleasure of working with the User Experience and Process Design team over the summer, which provided me with insight into producing thoughtful, user-centered designs for the University's community. I was hired as a UX designer to work with the University Service Catalogue, which is an online catalogue for all of the University's IT services that are available to students, staff, faculty and alumni at the University. My role encompassed a mix of user research, ideation, prototyping and usability testing as I delved deeper into how users discover or search for IT services online. Besides working on the site's user interface, I was also able to focus on how users' experiences were affected by back-end development, such as how site content is indexed and how search results are retrieved. Moreover, the ability to keep in close contact with other stakeholders, like application developers, ensured a smoother handoff of design deliverables.
Despite having had to work remotely, I was fully supported by the EASI team, who scheduled multiple weekly check-ins and working sessions where I was able to gain valuable feedback on my design process. It has been lovely getting to know the team and being made to feel so welcome!