When I first started working with Cathy, it did not take me long to see that she had amazing relationships, built on trust. Cathy led a large, competent and talented team. She always put a lot of effort into her people and that is a sign of an amazing leader. I trusted her to deliver and was pleased to appoint her deputy CIO. I need to thank her for that, as it allowed me to focus on other areas that needed attention.
There will not be another Cathy, but her legacy will live on and ITS will build on the partnerships she created. Cathy's advice and guidance through the pandemic was sage and priceless. I could not have done the last six years here without her. I would like to say to Cathy, "Thank you, thank you, thank you for all your contributions to the University. Enjoy the well-earned time with family."
Bo Wandschneider
Chief Information Officer, Information Technology Services
---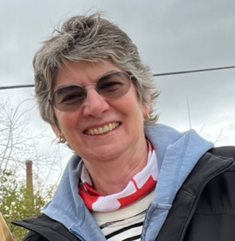 Cathy Eberts, Director Enterprise Applications & Deputy CIO
Joined U of T: November 24, 1994
Retirement and last day at EASI: November 30, 2023
How did you arrive at U of T and how have your roles changed over the years?
I actually applied to the University back in the day using the old-fashioned method of responding to an ad in the newspaper for a System Manager in Research Services. During the early part of my career, I was responsible for implementing what is now known as RIS – a custom developed Research Administration system using SAP. It was a very tumultuous time in general with the university also planning for a wider implementation of SAP for Finance and HR before Y2K. SAP was very new with many consultants on site and many business process and organizational changes underway. Following that I moved through a natural progression of my career overseeing the DUA system (once on SAP), all the AMS systems, then SIS and NGSIS, and finally as the Director for Enterprise Systems. Adding the Digital Workplace/M365 team to EASI, just prior to the pandemic, definitely threw a little spice into my job!
How has IT evolved at U of T and in higher education and what do you think the future holds?
There, of course, have been many IT changes over the years, not just in terms of technology but also in terms of organization. When I started in the mid-90s, the internet was just becoming "a thing" so creating a new website for Research Services was considered quite novel. The world was coming to an end with Y2K so the race was on to implement SAP and a new student system. There was no CIO and IT was very decentralized and embedded into various business areas. I survived those early years to eventually see the centralization of ITS and all the new technologies we now embrace. Especially fascinating to me has been the explosion of new digital workplace and Microsoft 365 tools that took hold during the pandemic.
I don't know what the future holds but from what I am seeing, we are entering another IT hype cycle with AI, automated processes, citizen developers, data engineers and so on. Our business partners are anxious to take advantage of many of these technologies as we emerge from the pandemic. All I can say is hang on to your hats!
What have you found most interesting about working at U of T?
I think the most interesting aspect of working at U of T is that it isn't one big organization but is really a collection of many very different divisions and departments focused on post-secondary education. When my children were young, we made a point of regularly attending the "Take Your Kids to Work Day" every year. Over the years, we explored almost every corner of the campus at this event from Nursing to KPE, to Zoology. The size and complexity of U of T is really quite amazing. The fact that our ITS team has the privilege of providing the vast array of IT services needed to support this complexity has made working here all the more fun and interesting.
What were some of the key projects that you were most proud to work on?
There are many. I am still very proud of the very first system I was involved in which was the Research System. It still stands today as one of the best Research Systems in Canada. But there have been a number of very large strategic programs I have been involved in since, most notably NGSIS, and the more recent work around our SAP modernization plans, as well as some of the focused work on HR transformation with the PSEC division. It has always been very gratifying for me to see this work come to fruition for staff and students in applications such as ACORN and SAP SuccessFactors. It's been a great run!
Your schedule has been extremely busy – how did you balance it all?
I think one of the most hectic times in my career was when I was completing my MEd part time at OISE. It coincided with incredible pressures at work and then in initiating and managing the new NGSIS program. My kids at the time were also heavily involved in sports and I didn't want to miss a minute of them on the field, the ice, or the dance floor. Of course, there was a lot of family support to relieve some of this pressure, but I also had to learn to be extremely well organized. Still, I worked evenings and weekends for many years to fit it all in. I won't have to worry about that anymore!
What will you remember most about EASI and U of T?
I've always been very proud of the work and the staff we have in EASI. I don't mind a challenge so will definitely miss solutioning and brainstorming with the various EASI teams, and the comradery that comes with working together on larger projects and initiatives. When you work at the University, you also have the opportunity to work with some of the brightest people in the world so there is definitely a feeling of pride when you tell people you work at U of T.
What advice would you give to those working in IT at U of T?
Take the time to explore the campus and the various opportunities for learning if you can. There are so many options to extend your professional or personal development through the School of Continuing Studies, the U of T Learning and Leadership Centre, additional degree or masters programs, and so on. I think many of us become too busy to invest in ourselves but try to take advantage of this incredible culture of learning while you are here – it won't last forever.
What do you plan to do in retirement?
Wind down and spend less time on a computer and more time connecting with family, traveling the country, playing sports, and volunteering for causes and organizations that I care about. We may foster for a cat rescue organization if we can renovate our garage for expectant mothers. Kittens are a lot of fun!