After months of preparation, extensive consultation and testing, U of T's My Research Applications & Agreements (MRA) launched an important upgrade on August 30, 2021. The benefits are many – from an improved user interface and streamlined processes to expanded support. 
"These critical improvements were driven by the feedback received from our research and innovation community," says Renée Brost, Chief Administrative Officer with the Division of the Vice-President, Research & Innovation (VPRI). "It was really important for our team to reach out to those using the applications. We consulted with approximately 90 users and conducted testing sessions across U of T's Academic Divisions and three campuses at various stages of the design and development process."
MRA supports U of T's vast research and innovation enterprise, which includes nine partner Toronto Academic Health Science Network (TAHSN) hospitals. MRA is integral for researchers to secure the institutional endorsement and approval of their research grants, applications, and non-funded agreements.
"It's important to continuously and intentionally improve the institutional supports for research and innovation, consistent with U of T's profile as an internationally significant research university," says Brost. "Not only have we aligned with U of T's latest SAP technology upgrade, but we have also refreshed and streamlined the research application process to make it as efficient as possible."
Since MRA's initial launch in the spring of 2013, approximately 28,000 research funding applications have been submitted for approval through the system. An additional 1,400 non-funded research agreement requests have been submitted since the launch of the non-funded agreement module in 2019.
MRA manages the internal approval process for over 2,800 principal investigators, as well as academic leads, divisional research staff, business officers, and central research staff.
"The modernized user interface, combined with a familiar process, relieves a lot of stress when submitting a research proposal," says Steven Short, Acting Vice-Principal Research and Associate Professor of Biology at the University of Toronto Mississauga. "The upgrade will create time savings for each researcher, which will add up with the thousands of research proposals going through the system. As researchers, we should be focused on our work and advancing the mission of the University."
While processes primarily remain the same, what has changed is better filtering, searching and grouping of research applications and best of all, the elimination of nested scroll bars. Based on feedback from U of T's research community, the navigation and user-experience has also vastly improved through a modernized user-centric design, along with automatic resizing to fit different devices, including tablets, desktop computers and mobile phones.
"The new user interface displays important information in one glance, using larger text and an easily accessible left-hand navigation," says Bob Dirstein, Analyst and Project Manager with Enterprise Applications & Solutions Integration (EASI). "We've also simplified and reduced the number of questions when submitting a research application, and the new MRA has greatly improved error checking. All of these improvements will help users navigate through the system more quickly and with fewer errors."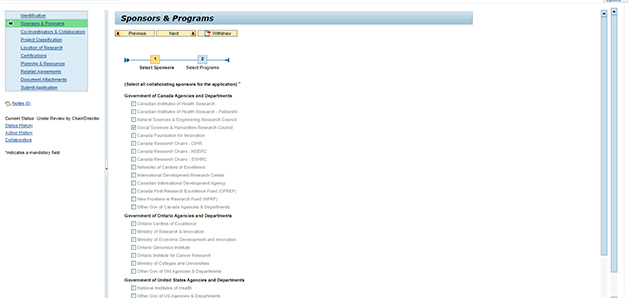 The previous MRA user-interface.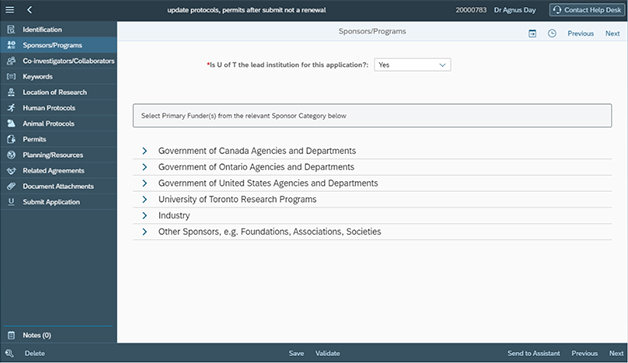 The new MRA user-interface uses a more streamlined left-hand navigation to show important information at a glance. Larger text, dynamic resizing and displaying more information on screens help users to navigate through the application process more quickly. 
In addition to improved validation and error checking, users can also access support resources through a dedicated help button and soon will have short explanatory videos for each step of the process. The renewal also provides principal investigators with better tools to collaborate with their assistants, providing a streamlined workflow.
From a broader perspective, the MRA Renewal Initiative is also part of the U of T Enterprise Modernization Program, a project that is in the midst of upgrading the administrative management systems and transforming the future for more than 33,000 staff and faculty.   
What's next for the My Research systems?  
The team is actively working on an update to how principal investigators view their research funding details with My Research On Line (MROL) and the Funded Research Digest (FReD) as part of the My Research Funds project. This project will bring many of the same user experience enhancements seen in the renewed MRA to MROL and FReD, along with some exciting new tools and functionalities to simplify the management of research funds.
"We're really excited about this next upgrade, which reflects our ongoing commitment to provide a best-in-class user experience to the community," says Brost. "The challenges of the past year have underscored the critical need for modern and on-demand digital tools."
For more information on the MRA Renewal Initiative, please visit the MRA Renewal Initiative webpage.  
Need help? Contact http://research.utoronto.ca/contact-us