Congratulations to Hung Chu, who will be retiring with over 38 years of dedicated service to the university on March 31, 2021. Hung began working part-time at Hart House in 1982 and started working full-time at UT Computing Services in 1985. Since then, he's been involved in a broad range of projects and has held various roles in U of T's evolving IT landscape.
Learn more about Hung below, and please join me in wishing him all the best in the future!
Cathy Eberts
Director Enterprise Applications and Deputy CIO
---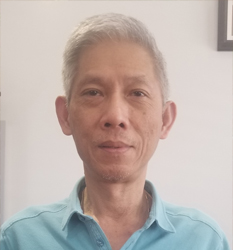 Hung Chu, Operations/Product Support
Joined U of T: September, 1982
Retirement and last day at work: March 31, 2021
Describe your background and how you arrived at EASI
I joined U of T in 1982 when I worked various jobs at Hart House while studying Computer Programming at Humber College. After graduating in 1985, I applied to work at UT Computing Services (UTCS) when UTCS acquired Cray Super Computer.
I transferred again to Student Record Systems (SRS) in 1987 to become Production Coordinator. While working there, U of T merged three departments together (UTCS, SRS, and BIS), which was under the portfolio VP Computing and called Systems Development.
In 1998, three departments had separated and needed to convert systems for Y2K compliance. Student Information Systems (formerly SRS) and Computing Service (formerly UTCS) still operated under the IBM mainframe while AMS (formerly BIS) converted to using the SAP system. I came to EASI when AMS and SIS merged.
What will you remember most about EASI?
I'll remember re-locating to various buildings around campus when departments merged under the portfolio CEO, and I'll remember working under various managers and directors who would give me a hand whenever needed.  Also, converting various software and systems was very interesting. EASI has been like a second family to me.
What will you remember most about U of T?
All of my co-workers have been really nice when we have shared special projects and special celebrations together. I will miss working with them.
What do you plan to do in retirement?
I'll do some chores like fixing things around the house and garden. Also, I'll take care of my grandkids whenever needed while their parents are busy. I'll travel somewhere to have fun and make some new friends along the way.