On March 3, 2021, U of T launched its first comprehensive training for Microsoft 365. Enterprise Applications & Solutions Integration (EASI) is now offering an Introduction to Microsoft 365 @ U of T and High Performance Collaboration. Created with consultation from all three campuses, these courses will help U of T employees to leverage the full power of Microsoft 365 products, to work faster and smarter.
Interested community members can register for monthly instructor-led sessions and also access over 100 U of T-specific micro-learning videos through SuccessFactors: Learning Management System. In addition, EASI has also launched a new Microsoft Training Centre website, which includes a training library and additional information. Beyond the training sessions, employees can also download slides to use as additional guidance and to practice the skills they've learned.
"U of T has such a broad user base and employees have different needs, along with different comfort levels with technology," says Kathleen McLeod, Services Engagement Coordinator with Enterprise Shared Services at EASI. "We've offered training sessions over Teams, but this provides much more in-depth training. If you just joined U of T, you can hit the ground running with the introductory course, and if you're taking the more advanced course, you'll get more detailed, targeted training."
The team started working on these courses with training partner, Protiviti, at the beginning of 2020. After employees began to work remotely due to COVID-19, the previously instructor-led courses needed to be re-imagined. This led the team to create micro-learning videos that provide on-demand training.
"When employees began to work remotely, many had to quickly learn how to use Microsoft products like Teams, SharePoint, Stream, OneDrive, Forms and more," says Gary Raposo, Senior Manager with Enterprise Shared Services at EASI. "Everyone had these new tools thrust upon them and it really highlighted the need for these courses. Now, employees can easily access and customize the training they need."
In order to gain a full understanding of users' needs, the development of the courses included close consultation with all three campuses and 14 divisions. If a division requires specific training needs, the Enterprise Shared Services team can provide a one-time training session co-presented with a divisional representative as well as instructor guides.
"We recognize that the training will not be one size fits all," says Raposo. "That's why it was important to make it extremely flexible. We're providing extensive resources and by offering to train others in the divisions, we hope to meet everyone's needs."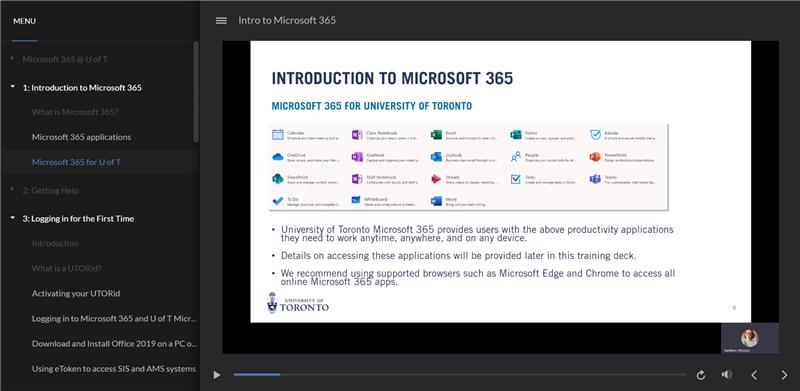 In addition to the formal training, the team will also continue to run Connect+Learn sessions to address specific topics such as new Microsoft applications or enhancements to existing applications in a personal and interactive forum.
The first instructor-led Introduction to Microsoft 365 @ U of T session will launch on March 24 and the first instructor-led High Performance Collaboration session will launch on March 30. In April, Enterprise Shared Services will offer train-the-trainer sessions and shortly after will roll out online, interactive workshops to give course participants the opportunity to apply their learnings. Instructors will be available to answer questions as participants work through exercises.
"We have so many tools available that are easily accessible," says McLeod. "There's so much value that they can offer to employees and it's important to show them in context. When everyone uses the same tools in a similar way, it allows us to work collaboratively and expand everyone's capabilities."