On September 17, the University of Toronto will be launching the IT Service Centre as part of the Enterprise Service Centre (ESC). This service desk solution will enable the University to eventually streamline, track and respond to over 38,000 annual IT inquiries. In the future, the ESC will also help the University process over 40,000 annual Human Resources service requests.
The ESC, based on the ServiceNow platform, will provide a modern employee experience, help to manage a growing workload, allow for seamless collaboration and provide real-time data to make evidence-based decisions to help adjust our services according to demand.
"Information Technology Services is working to serve the broader University of Toronto community better by introducing modern, agile tools that enable efficient service delivery," says Cathy Eberts, executive director of Enterprise Applications & Solutions Integration (EASI). "This will improve the employee experience by helping users find the information and get the help they need when they need it."
The University of Toronto Mississauga has used ServiceNow for over three years with great success at handling over 15,000 annual service requests.
What can you expect with the Enterprise Service Centre?
Ticketing system – allows users to quickly submit and track support incidents and inquiries.
Service catalogue – allows users search the catalogue by category to submit online requests.
Knowledge base – allows users to easily search a database of articles that are linked and categorized based on relevance to frequently asked questions and topics.
Dashboards and analytics – allows users to view important data at a glance and prioritize tasks.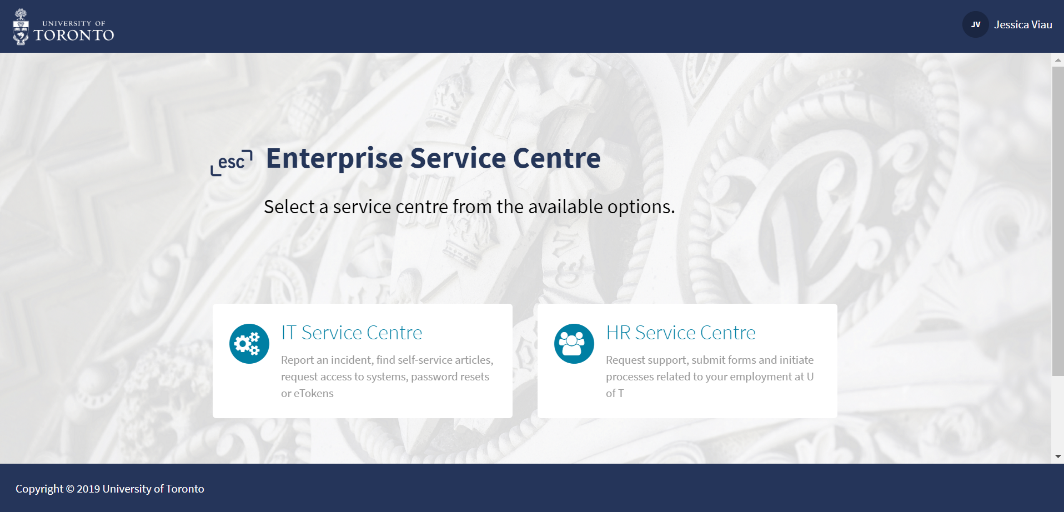 To prepare for this change, the project team has gone through an extensive six-week program of user acceptance testing followed by targeted training with participation from users across the University.
"Workshops and discussions with our user community were essential for understanding how to move them from traditional processes to a digital platform," says Gary Raposo, manager of enterprise shared services with EASI. "As development progressed, it was great to see the excitement grow as people realized the potential of this platform."
There are a lot of exciting changes coming this fall with a roadmap for continued development of the ESC.
For a complete list of which services you will be able to access from the ESC, visit the Enterprise Applications & Solutions Integration website.