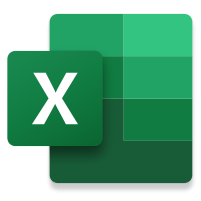 Excel
Microsoft Excel is a powerful spreadsheet tool that can be used to store, organize, analyze and visualize data. With Office 365, Excel online gives you the flexibility to securely access and edit your data from anywhere you go.
With Excel, you can turn your data into big insights. Using Excel with Office 365 means that you are always accessing the most recent version of the application along with all available features and functionalities. Excel features include:
A comprehensive range of charts and graphs to present your data in with formatting, sparkline and table options.
Continually updated and improved functions.
The ability to publish locally stored files directly to Power BI.
An Insights tool that automatically helps you by highlighting patterns in your data.
Integration with Office 365 tools such as PowerPoint.
Faculty members and administrative staff with appointments of at least 20 per cent can access free downloads of the desktop and mobile versions of Excel to use with their personal devices.