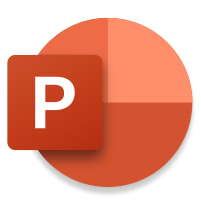 PowerPoint
PowerPoint is a presentation application offered through Office 365. With PowerPoint, you can create high-quality and effective presentations for a wide range of audiences and stakeholders while collaborating on edits with colleagues in real-time.
Use PowerPoint with Office 365 tools such as Excel to create powerful, integrated presentation models. PowerPoint also offers a variety of features to make creating engaging slides easy, including:
A design ideas feature that automatically gives you graphic and formatting recommendations.
A wide selection of templates to build presentations from.
Built-in photo editing tools.
SmartArt options that can convert text-based ideas into graphics.
Use the online and desktop versions of PowerPoint with OneDrive to easily and securely share your presentations, and to access your slides from anywhere you go.
PowerPoint is available for free to faculty and staff using Office 365 and can be installed on up to five personal computers.