You might have heard about the Data Dragons Competition – an event filled with fun, scorching ideas and opportunities to learn.
Join Enterprise Applications & Solutions Integration (ITS) and Planning & Budget on July 5 as six staff and faculty pitch their data science and business intelligence ideas to a panel of judges. The winning pitch will become a sponsored project.
U of T is quickly becoming a leader in business intelligence, which is the process of analyzing and visualizing data to make fact-based decisions. In addition to the competition, staff can tap into the power of business intelligence through the Institutional Data Hub – a rich repository of data relating to teaching, research and service activities.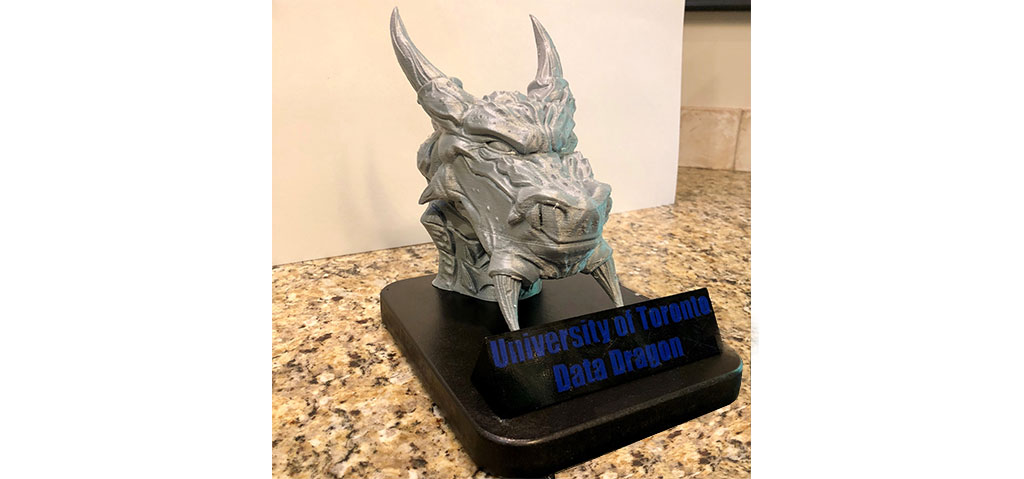 See who will win this 3D printed trophy!
Here's how some of the competitors are preparing:
Anita Chooraman – HR Assistant, Integrated HR, Strategic Initiatives, Division of HR and Equity
Paul Nakonechny – HR Analytics Consultant, Division of HR and Equity
In preparation, we're taking time to watch Rocky II to Rocky V because those are the movies where he wins. We're also studying who's on the panel, scoping out our competition and practicing our delivery on how our project reflects the needs of the University as a whole. This will be an exciting experience because it's the first event like this, and we're ready for whatever will come at us!
---
Mari Motrich – Manager, Systems and Data Analysis, University of Toronto Scarborough
This is a really busy time for the registrar's office because we're preparing for both fall and winter courses. I've been preparing after work and picking my co-workers' brains during the day. We have a rehearsal at UTSC at a data analytics meeting, and I'm hoping to get some great feedback there. I'm really excited for the event – to receive feedback on my presentation and to hear the other proposals.
---
Joseph Peter McNamara – Resource Planning and Analysis Officer, University of Toronto Scarborough
I've been preparing by going through dry runs and bouncing ideas off of colleagues. I'll also be presenting at the same data analytics meeting as Mari – we're very supportive of each other at UTSC. Overall, I'm going to try to make sure the event is fun, and I get a kick out of answering the tough questions. I like the adrenaline rush and having to think on my feet, and I'll be sure to have done my homework before facing the fire.