Microsoft will be retiring the Teams mobile support on iOS devices running version 13 and below. Instead Microsoft recommends that users upgrade to newer iOS builds, which is where Microsoft will continue to invest their development resources. Microsoft will also begin encouraging users to update to the newest version of Teams if they're running builds older than 1 year.
The retirement will begin in early November (previously early October) and is expected to complete by mid-November (previously mid-October).
Date: July 13, 2021
To: InfoTech, EITU
From: EASI Digital Workplace
Re: Updated timeline: Microsoft will now retire Skype for Business on January 31, 2022
Good morning,
Microsoft previously indicated it would retire Skype for Business Online on July 31, 2021 (see previous memo below). Please note that Microsoft has revised this date to January 31, 2022.
Between now and January 31, existing Skype for Business users at the University will experience no change of service and they will be able to continue using it as needed. After January 31, the service will no longer be accessible.
If your division is still using Skype for Business, we recommend you take the following actions as soon as possible:
For online meetings
If your division is still using Skype for Business to schedule online meetings, we recommend upgrading to Microsoft Teams.
For conference rooms
If your division is still using Skype for Business in your conference rooms, you will need to switch to an alternative service before January 31, 2022. We recommend upgrading to Microsoft Teams.
In both instances, Teams offers improved meeting features to Skype for Business and we expect you will find the transition to be a smooth one. You can learn more about using Teams on the University's Microsoft 365 website: https://easi.its.utoronto.ca/shared-services/office365/teams/.
Please let us know how we can assist you in this transition by submitting a ticket through the Enterprise Service Centre.
Kind regards,
EASI Digital Workplace
Users may receive notifications that state: "FCM Messagess : Test Notifications". Microsoft is currently analyzing detailed forensics within the Teams mobile notification infrastructure to identify the cause of impact.
This issue may potentially impact any user with Microsoft Teams installed on a mobile device.
This month, the University of Toronto community can expect to see several updates to their Microsoft Teams experience. With these updates come several new and useful features that will enable staff and faculty across the University to make the most of their online meetings.
The most significant of these updates is the introduction of new Teams meeting features. Read this article for a summary of these changes, and how to enable them if you haven't already. If you haven't seen these updates yet, don't panic: it's a gradual roll-out that will eventually reach all Teams users at the University.
---
1. Teams meetings now have a capacity of 300 people
Teams has increased the number of people who can join a meeting from 250 to 300 people. You don't need to do anything to activate this change – the update is automatic.
2. Teams adds additional options to the meeting lobby settings
Until recently, University of Toronto Teams users could not implement lobby settings that would allow them to screen every user before admitting them to a meeting. Teams just rolled out an update to address this issue: meeting organizers can now opt to have everyone – including people within the organization – wait in the lobby.
To add this setting to a planned meeting, simply go to your meeting options. Click on the Who can bypass the lobby? dropdown menu and select Only me. Click Save to update your meeting settings.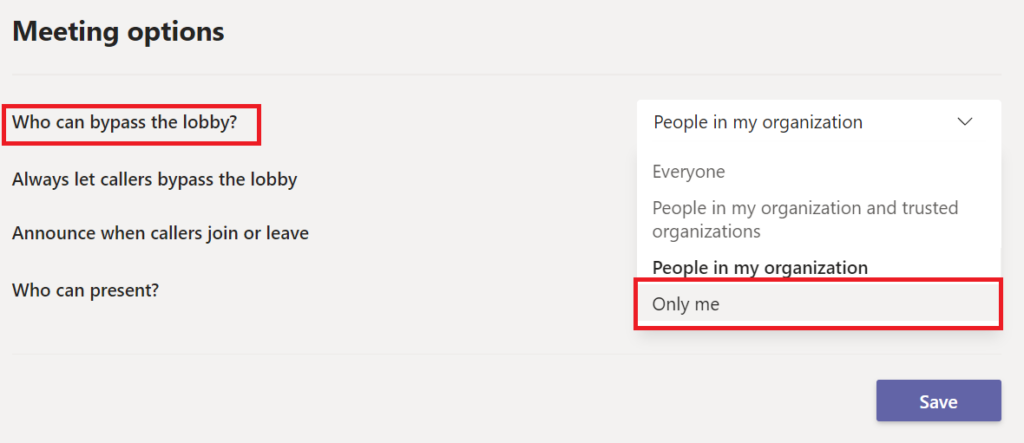 3. Teams has started rolling out a new 'pop-out' Teams meeting display to all its users
This update is currently available in preview mode before it becomes the default view. To turn the new display on, simply click on your user icon in Teams and go to Settings. Under the General tab you will see a box to Turn on new meeting experience. Click on the box to apply the change. You then need to restart Teams by quitting and relaunching the application.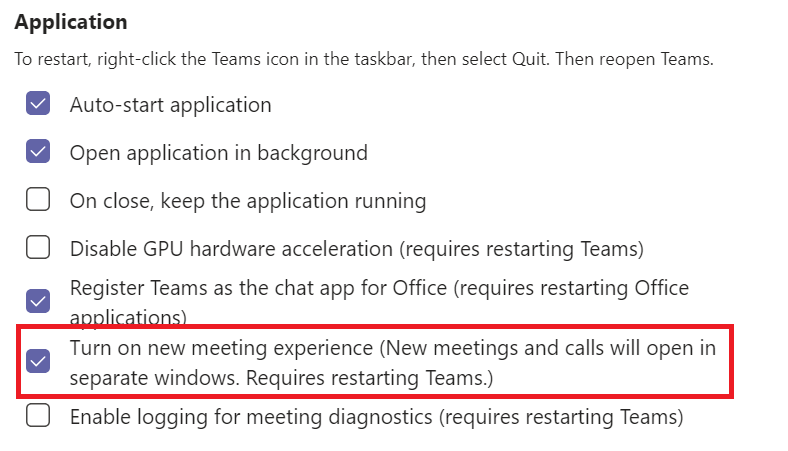 When you relaunch Teams after changing this setting, your meetings will have a new display. You will notice two major differences:
All your calls and meetings will now launch in a new window. This makes it easier for you to navigate between your active meeting and items in your main Teams window such as your chat, calendar and channels.
Your meeting controls will now be at the top of your call window. They will always be visible this way and will never obstruct content when someone is presenting.
4. Teams now offers a larger, 49 person grid 
In response to user demand, Teams has introduced a new 7×7 grid. This means that your Teams meeting can now display a maximum of 49 people! To access this larger display, follow these steps:
Activate the new pop-out meeting display using the instructions outlined above.
Click on the three-dot More actions menu.
You will see an option called Large gallery. Click on this option to activate the larger gallery size.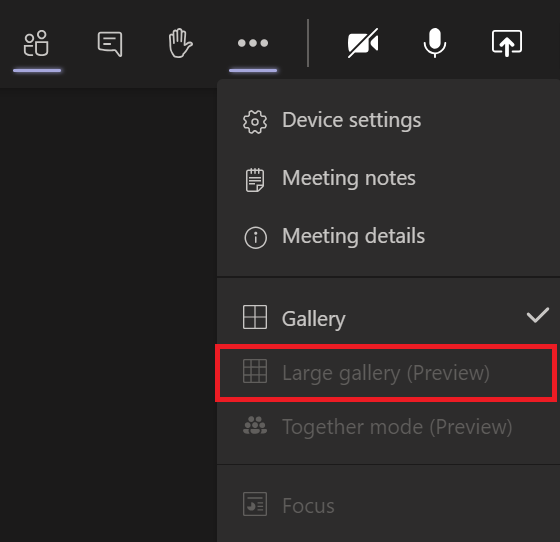 Note: You must have at least ten people in your call in order to activate this setting.
5. Introducing 'together mode' 
Together mode lets you feel like you're in the same shared space with everyone in your meeting. To activate together mode, click on the three dot More actions menu in the meeting task bar and then select Together mode. Your video must be on.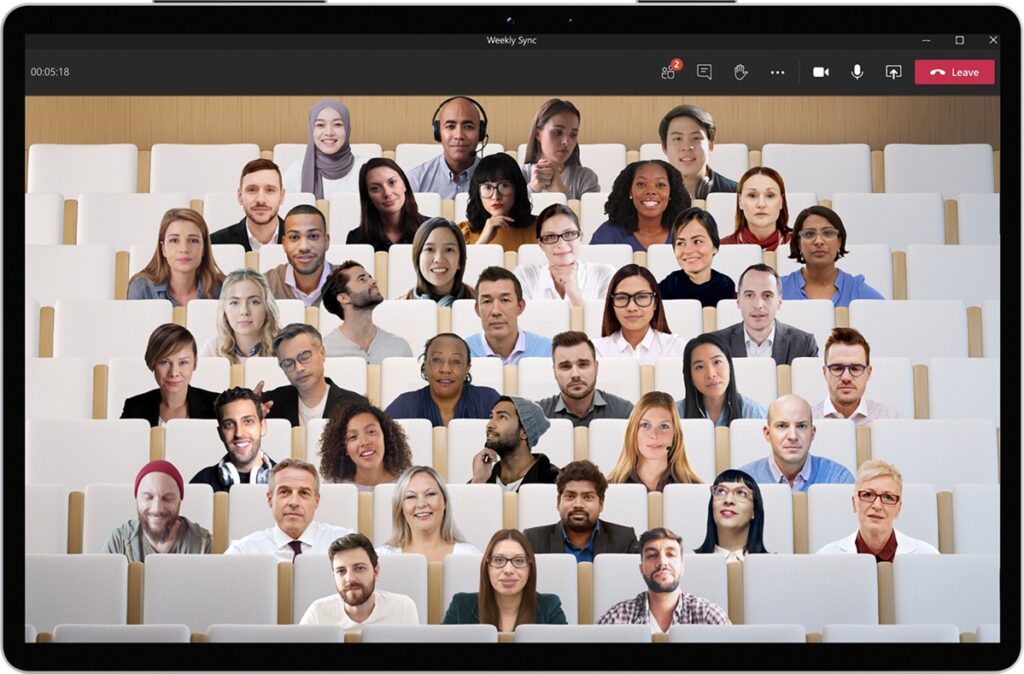 ---
Interested in learning more about Teams?
For a list of additional new Teams features and updates, please see this announcement from Microsoft.
Visit EASI's Connect+Learn page for a list of upcoming Teams training sessions. You can also subscribe to the Connect+Learn newsletter for updates, and view slides and recordings from previous presentations.
In the second half of July, users who are on old versions of Teams (below version numbers containing 1.2.00.XXXX) will receive in-app notifications advising them to update to the latest version. After 28 days of receiving the first notification, these users will see a redirect page which will inform them that they are using an old version of the Teams desktop client. They must either update their client or use the Teams web version.
To avoid disruption, users should update the to the most recent version. Please note that users need to be signed in for updates to be downloaded.
To keep up to date with the current versions:
Users can manually download updates by clicking Check for updates on the Profile drop-down menu on the top right of the app. If an update is available, it will be downloaded and silently installed when the computer is idle.
The desktop client updates itself automatically. Teams checks regularly for updates, downloads any available, and then waits for the computer to be idle before silently installing the update.
We strongly advise users to ensure they are on the most up to date version of the desktop client in order to access the latest capabilities, performance enhancements and security features.